Dr. Fredia Wadley's career as a medical doctor and public health official has taken her from the halls of academia to a small private practice in her hometown to the state house in Tennessee.
After her retirement from a job in the private sector with an Easton company, she found herself back in public health, leading Talbot County through the COVID-19 pandemic. We caught up with Dr. Wadley as she prepares to retire again, this time from the Talbot County Health Department.
TalbotWorks: You have referred to your current role as the Talbot County health officer as your "encore job." Can you give our readers an overview of your career as a physician?
Dr. Wadley: I started my career as a pediatric faculty member for the Tennessee Health Science Center in Memphis after finishing my pediatric residency.  "When my father died, I still had two young brothers at home. I left teaching to establish a solo pediatric practice in my hometown of Winchester, Tenn., in hopes of providing some support to my mother."
As the only pediatrician in a county the size of Talbot County, and on call twenty-four hours, seven days a week, I was eagerly looking forward to when a fellow pediatrician would join me in my practice.  He was drafted, and I kept suffering from a lack of sleep.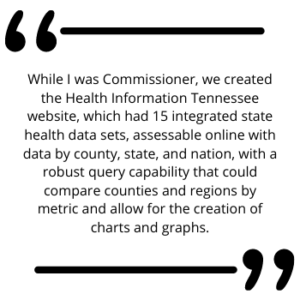 One day a nurse practitioner that I had trained on her pediatric rotation in Memphis brought her boss from Chattanooga and recruited me into public health. Over the next 28 years, I became the Regional Director for those 10 rural counties surrounding Chattanooga, the Chief Medical Officer for the Tennessee Department of Health (TDH), director of Nashville/Davidson County Health Department, and Commissioner (which is the equivalent of Secretary in Maryland) for the TDH.
While I was Commissioner, we created the Health Information Tennessee website, which had 15 integrated state health data sets, assessable online with data by county, state, and nation, with a robust query capability that could compare counties and regions by metric and allow for the creation of charts and graphs. This was when the rest of the states were spending far more on data warehouses that still were not directly accessible to the public.
After Gov. Sundquist finished his second term — and I had spent 8 long years and 16-hour workdays as Commissioner of TDH — I was ready to try something new. I think I wanted to prove that I could succeed in the private sector when I accepted a medical director position with Delmarva Foundation for Medical Care at an office located in Columbus, Ohio.
This company started as a quality improvement organization, but grew to have many lines of work related to healthcare including data analytics and data mining. I was in Ohio only eight months when asked to accept a position in Easton at the central office. I moved to Easton in 2004, became the CEO in 2010 of the parent company Quality Health Strategies with four subsidiary companies, and retired in 2015.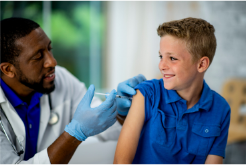 In April 2015, April Sharp, the previous director of Talbot County Department of Social Services, asked me to apply for the vacant health officer position. I was already bored after a couple of months of retirement, so I threw my hat into the ring.
Who knew I would be back in public health when the first pandemic in more than a hundred years began?
TalbotWorks.org:  Wow! That's some resume. You are a pediatrician by training. Can you share your thoughts about the connection between early childhood health and education and the success of tomorrow's work force?
Dr. Wadley:  In Tennessee during the early 1990s, Dr. Tommy Frist, then CEO of Hospital Corporation of America, and I as the Director of Nashville/Davidson County Health Department, co- chaired a United Way Initiative called Success By Six. Its purpose was much the same as that of the Children's Initiative that Dr. Kelly Griffith, Linda Webb, and I began in Talbot County about three years ago.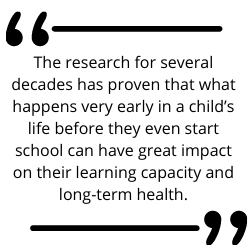 Both embraced the science that demonstrates the early years from birth to six years of age are critical for the normal development of a child's brain. The research for several decades has proven that what happens very early in a child's life before they even start school can have great impact on their learning capacity and long-term health.
Jim Renier, CEO of Honeywell Industries at the time, started one of the first Success By Six initiatives in Minneapolis because the business community was seeking ways to develop a better trained workforce.
The research convinced this group of business leaders that when children begin school with the appropriate skills for their age, they are more likely to be successful in school and later in life. Those children starting school without the desired skills usually do not catch up with their peers, but continue to fall further behind their classmates as they grow.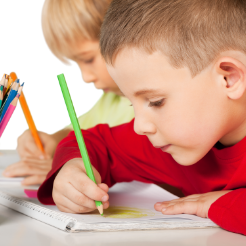 Long-term studies like the Perry Preschool Project have tracked individuals over 40 years to demonstrate the value of strong preschool programs. All that research indicates that the best investment for achieving a well-prepared work force should be made from birth to school age.
This is difficult for some to comprehend, because many of the skills needed for success in school are not related to knowing ABC's or counting, but involve how well children can control their behavior like sitting still and listening and not advancing to a melt-down with each minor distraction.
It is great that communities want to offer advanced classes in high school or vocational training, but for many students that opportunity is too late to develop the skills needed for the workforce or for the individual's success in life. However, the problem in getting business leaders and elected officials to adopt this concept is that they need a better trained workforce immediately and don't feel like they can wait 20 years before they see a return on their investment.
There is a saying that if we keep doing the same thing and expect a different result, then maybe the problem is with us. It is difficult to get elected leaders committed to a project that will not produce results until they are out of office. Nevertheless, I worked under Governor Lamar Alexander, now the senior Republican senator for Tennessee, who's Healthy Children's Initiative focused on early childhood development and quality education for a prepared workforce. He totally understood the connection between childhood brain development and the future workforce.
TalbotWorks:  I think it's fair to say that most people rarely thought about the local Health Department before the COVID-19 pandemic began. What role should the health department play in a community and why is it important to individuals and businesses?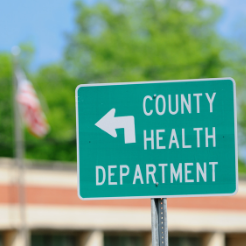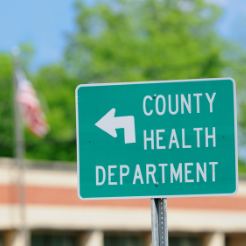 Dr. Wadley:  It is said that when public health is successful, people forget what they do. Public health has an expansive list of responsibilities and essential services designed to investigate health problems, track their impact within communities, assure access to health services needed, educate the public about these health problems, and use science and proven strategies to prevent, mitigate, or treat those conditions.
Public Health by default is involved with those things that the private health sector cannot, or does not, do for the health of residents in a community. You will not read that definition in any book, but it is amazingly true. You can track the changes in the healthcare sector and see the resulting changes in services of health departments.
As more people are covered with health insurance, fewer clinical services are provided in health departments and more prevention, education, and care coordination services are placed upon health departments. The problem is that health departments are not funded to adequately address half of their responsibilities.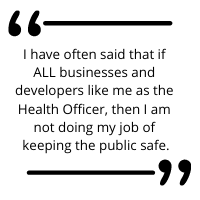 A previous Deputy Secretary of Maryland Department of Health accurately summarized the problem by stating that 'Public Health needed to prioritize what is needed and not spread itself too thin trying to do everything.'
Unfortunately, services are categorically funded one service at a time and rarely is there any prioritization at the level of government funding the service.  The most visible Public Health services within the business community are the regulatory environmental services.
No one loves a regulator, an inspector, permits, licenses, and penalties. These services are to protect the public, but individuals don't like them. I have often said that if ALL businesses and developers like me as the Health Officer, then I am not doing my job of keeping the public safe.
These services are supposed to be fee neutral and generate their own revenue, but fees are often not increased for 10 to 20 years, salaries are low, positions vacant, and complaints frequent about the slowness of services.
The scenarios are similar in any state:  Tennessee residents wanted to put a septic tank in solid rock in East Tennessee, and Talbot developers want to build a mansion out of a two-bedroom house and keep the old inadequate septic system because there in no site on the plot that will support a new septic system. Our role is to keep a failing septic system from contaminating the ground water.
Public health's efforts to have clean water and proper sewage disposal have saved more lives than healthcare down through the years, but success is quickly forgotten. If we are concerned about tourism, then we need to protect our ground water and streams along the Eastern Shore.  Ultimately, we must consider our infrastructure and that means more residences connected with sewer lines.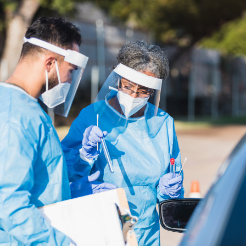 The Coronavirus pandemic has forced residents to realize that threats from infectious diseases for which there are no treatments or vaccines still exist. Few people even knew the term 'contact tracing', and quarantine is a revived term from days gone by. Yet, after wearing masks, practicing social distancing and good hand hygiene, these have been our greatest tools to fight the spread of the virus.
There have been many warnings of a viral pandemic since viruses are quick to morph into different forms that can be more dangerous to humans. But once again our culture is not prone to prepare, but is more likely forced to react to problems.
Our job is to be prepared for the unknown, but public health was not prepared for this pandemic and more have suffered and died due to that lack of preparedness.
What makes my job in public health difficult but also interesting is that the responsibilities and tasks keep changing as the world changes. For example, the economy can't be its best when the poor health of the public consumes too many resources. This country spends more than two to four times the percentage of its Gross Domestic Product (GDP) on healthcare than other similar countries, but has worse health outcomes.
It is a strain on small and large businesses to cover health insurance costs for their employees and government to cover those uninsured. And yet most of our health problems are preventable with our own behavioral changes. But once again, who wants public health telling them to wear seat belts and bike helmets, don't smoke, eat healthier, exercise more, drink moderately, don't misuse prescription drugs, get immunizations, wear masks, self-manage your chronic condition, and don't pollute the environment.
But the bottom line is that Public Health needs to do whatever a community needs to be healthy and stay healthy that is not being done by the private health sector. That encompasses far too many things, but that goes with the job.
TalbotWorks: Do you see the role of the Health Department changing as a result of COVID-19? In general, will it change the way we approach healthcare in this country?
Dr. Wadley: I wish I could say "Yes," but I don't see the will to invest more in public health to address the health needs of today. Healthcare is glitz and glamor with high tech solutions and silver bullet medications. Public health is often about changing our behaviors to be healthier, not polluting the environment, investigating health issues and finding their solutions, and informing the public about public health issues. You can't pack all that into a 'sound bite' for media or the limited attention span of most of us.
What is difficult to understand is difficult to fund. Public Health will continue to get attention when there are major epidemics or pandemics. But once again, when those problems are forgotten, we will slip back into obscurity until the next scare comes along.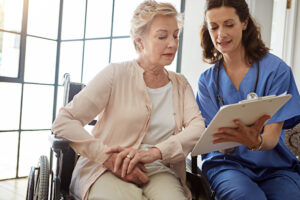 TalbotWorks:  What has the COVID-19 public health crisis revealed about our community? Our state? Our society in general?
Dr. Wadley:  I fear that the nation is divided over too many issues to unite for a single cause like it has done throughout this nation's history. Social media has made it easier to distribute facts as well as opinions, and the most opinionated often are the loudest and get their views before the public.
Our community is divided just as our nation is divided. Never have I seen an infectious disease become a political football and viewed as something that could enhance a political career. This pandemic has revealed for the first time that public health leaders can be muzzled at all levels of government and publicly threatened for their attempts to slow the spread of the virus.
This pandemic has shown that tried and proven methods of disease control such as contact tracing and quarantine may no longer be effective as they once were. People refuse to provide names of people they might have infected, and many also do not maintain quarantine or isolation to prevent the spread. Too often our yearning for independence in all aspects of our lives has morphed into an unwillingness to sacrifice anything for the good of our fellow man.
TalbotWorks:  What are your plans for your retirement? I cannot see you rocking your time away on the front porch!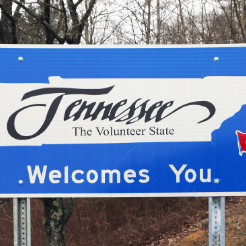 Dr. Wadley:  Eventually, I will move back to Tennessee to be close to our daughter and families. I have had an offer to teach public health part time and that sounds like something I would enjoy.
I also would like to be engaged in a Children's Initiative again, as a volunteer this time. And who knows, my daughter has mentioned me helping her start up a new business.
For several months I have been collecting stories about this pandemic from a health officer's perspective, and may attempt to get those printed for future health officers for future pandemics – and there will be future pandemics.