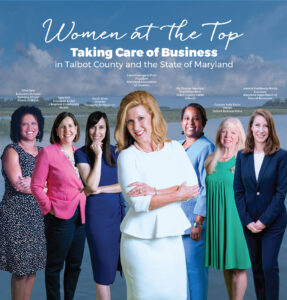 Talbot County celebrated women leaders during the Maryland Association of Counties (MACo) Annual Meeting in Ocean City, August 17-20, by highlighting a representative cross-section of dynamic women.

Laura Everngam Price
President, Maryland Association of Counties
Talbot County Councilwoman
Elected in 2010, Laura is serving her third and final term on the Talbot County Council. She was born and raised in Easton and her family has lived on the Eastern Shore for many generations. She attended Easton High School until moving to Delaware to train as a national figure skating competitor. After graduating from high school, she attended the University of Delaware and continued her skating career, coaching all ages of figure skaters for many years.
Since her election to the County Council in 2010, Laura has developed an in-depth understanding of all County departmental functions, personnel issues, and the County budget. She has analyzed operations and resources to make recommendations on prioritizing the spending of taxpayer dollars to provide essential County services to the citizens. During her eight-year tenure with Maryland Association of Counties (MACo), Ms. Price has served on numerous committees and currently serves as president of the Executive Board of Directors.  Outside of her elected life, Laura co-owned and operated a small business, Ship and Print Place in Easton, for nearly 20 years. She has two children, Nicholas and Justin.
Laura has been a member of the Mid-Shore League of Republican Women since 2002. She was crowned Mrs. Maryland America in 2005 and promoted a platform of healthy lifestyles. She is now a co-director of the state pageant and encourages women to serve their communities while achieving their best selves.

Dina Gomes Daly
Executive Director, Building African American Minds Inc.
Dina and her husband Derick are the founding members of BAAM, and she has been on the board since its inception in 2005. She became executive director in April 2021 and is responsible for all programming offered by BAAM to youth, their families, and the community. Dina served as the director of the Caroline County Department of Social Services from 2004-2021 and was the assistant director for Child and Family Services at the Dorchester County Department of Social Services from 1999-2004.
A graduate of Suffolk University in Boston, Dina also holds a master's degree in social work from the University of Maryland at Baltimore. She is a licensed certified social worker and a 2007 graduate of Leadership MD. Born in Sao Nicolau, Cabo Verde Islands, Dina lived in Portugal for 5 years and migrated to the United States in 1976.
Sara K. Rich

President and Chief Executive Officer, Choptank Community Health System
Sara Rich earned a master's degree in Public Administration from Western Michigan University and has more than 20 years of experience in local, state, and national health care settings. In January 2017, she was appointed by the Choptank Community Health System Board of Directors as the Chief Executive Officer. She previously served as Choptank Health's SVP and COO.  Sara lives in Easton, Maryland, with her husband Matt and sons Jonah and Sawyer.

Sarah Jesse
Director, Academy Art Museum
Sarah came to the Academy Art Museum in June 2021 from the Orange County Museum of Art in California where she was deputy director, and for an interim period, director and CEO. From 2012-2018, she was the associate vice president of education at the Los Angeles County Museum of Art. She also served as the director of education at the Philbrook Museum of Art in Tulsa, Oklahoma, from 2009-2011, and for seven years prior, she worked at the Museum of Contemporary Art in Chicago.
She is a graduate of the Museum Leadership Institute and received her master of arts in Art History from the University of Illinois at Chicago and her bachelor of arts from Oberlin College.
Dr. Sharon Pepukayi

Superintendent, Talbot County Public Schools
A graduate of St. Michaels High School, Dr. Pepukayi has returned to Talbot County as superintendent of the public school system. She most recently served as an assistant superintendent for the Appoquinimink School District in New Castle County, Del. She is a collaborator and believes in unleashing the talents of others. She has worked tirelessly to develop leaders and promote equity and diversity efforts in her district.
In her 20 years as an educator, Dr. Pepukayi has served in numerous roles including student advisor, mentor, reading coach, teacher, assistant principal, and principal prior to moving to district administration. She recognized the need to keep students at the forefront of her decision-making while spending time in classrooms. Her passion for students is undeniable, and she loves to talk with them about their educational journeys.
Dr. Pepukayi earned her Bachelor of Arts in Elementary Education from Bennett College, Master of Arts in Early and Middle Childhood Education from Ohio State University, and a Doctor of Education in Innovation and Leadership from Wilmington University. She is a member of many educational organizations, and a charter member of Delta Sigma Theta Sorority, Inc. She has also provided training and presented at several national conferences.
Dr. Pepukayi credits her parents for instilling in her the love of teaching and learning. Her mother is a retired teacher, and her father is a retired waterman, businessman, and former school board member. In her free time, she enjoys being around the water, traveling, and spending time with family and friends. She is the proud parent of two sons.

Captain Judy Bixler
Owner, Oxford-Bellevue Ferry
Chairman, Maryland Tourism Development Board
Not only does Judy Bixler captain the Oxford-Bellevue Ferry, she also steers the Maryland Tourism Development Board. Judy and her husband Tom sold their car dealership in Canton, New York, and lived aboard their sailboat Outrageous for three years before anchoring in Oxford. In the spring of 2022, they began their 21st season as owners of the ferry, thus proving that "ferry tales can come true." Judy is chairman of the Talbot County Tourism Board and represents transportation on the state Tourism Development Board.

Jeannie Haddaway-Riccio
Secretary, Maryland Department of Natural Resources
An Eastern Shore native, Jeannie was born and raised in Talbot County. Her professional experience includes working for the Maryland Department of the Environment's Air and Radiation Management Administration and the National Audubon Society's Maryland-DC Office. From 2004 to 2014, she served in the Maryland House of Delegates where she worked on a variety of issues including economic and environmental policies. In 2014, she joined the Hogan Administration serving most recently as Deputy Chief of Staff, advising on issues related to natural resources, agriculture, energy, environment and labor. Jeannie and her husband Joe reside in Talbot County. They are avid boaters who also enjoy fishing and hunting.​