The Eastern Shore Regional GIS Cooperative in partnership with the Mid-Shore Regional Council and the Tri-County Council for the Lower Eastern Shore of Maryland has recently released a new interactive dashboard focused on healthcare in Maryland.  The Healthcare Dashboard provides Maryland's decision-makers with information on the health care industry and prominent health conditions in Maryland.  It utilizes data from the Center for Disease Control and Prevention, ESRI Demographic and Business database, and ESRI Consumer Spending database.  Users can analyze data both spatially and temporally as well as filter data by primary cause of death, provider type, or spending category.
Recent updates to the site include the addition of 2016 CDC data and the expansion of age ranges in the Trends chart.  The Healthcare Dashboard will continue to evolve based on user feedback.
Click the photo below to be taken to the healthcare data dashboard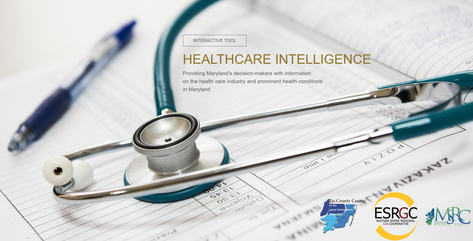 About the Mid-Shore Regional Council
The Mid-Shore Regional Council operates as a cooperative regional planning and development agency within Caroline, Dorchester, and Talbot Counties to foster physical, economic and social development. The Council initiates and coordinates plans and projects for the development of human and economic resources.
The Mid-Shore Regional Council is a federally designated Economic Development District (an economically distressed area) that enables federal funding to the region through the U.S. Department of Commerce's Economic Development Administration.