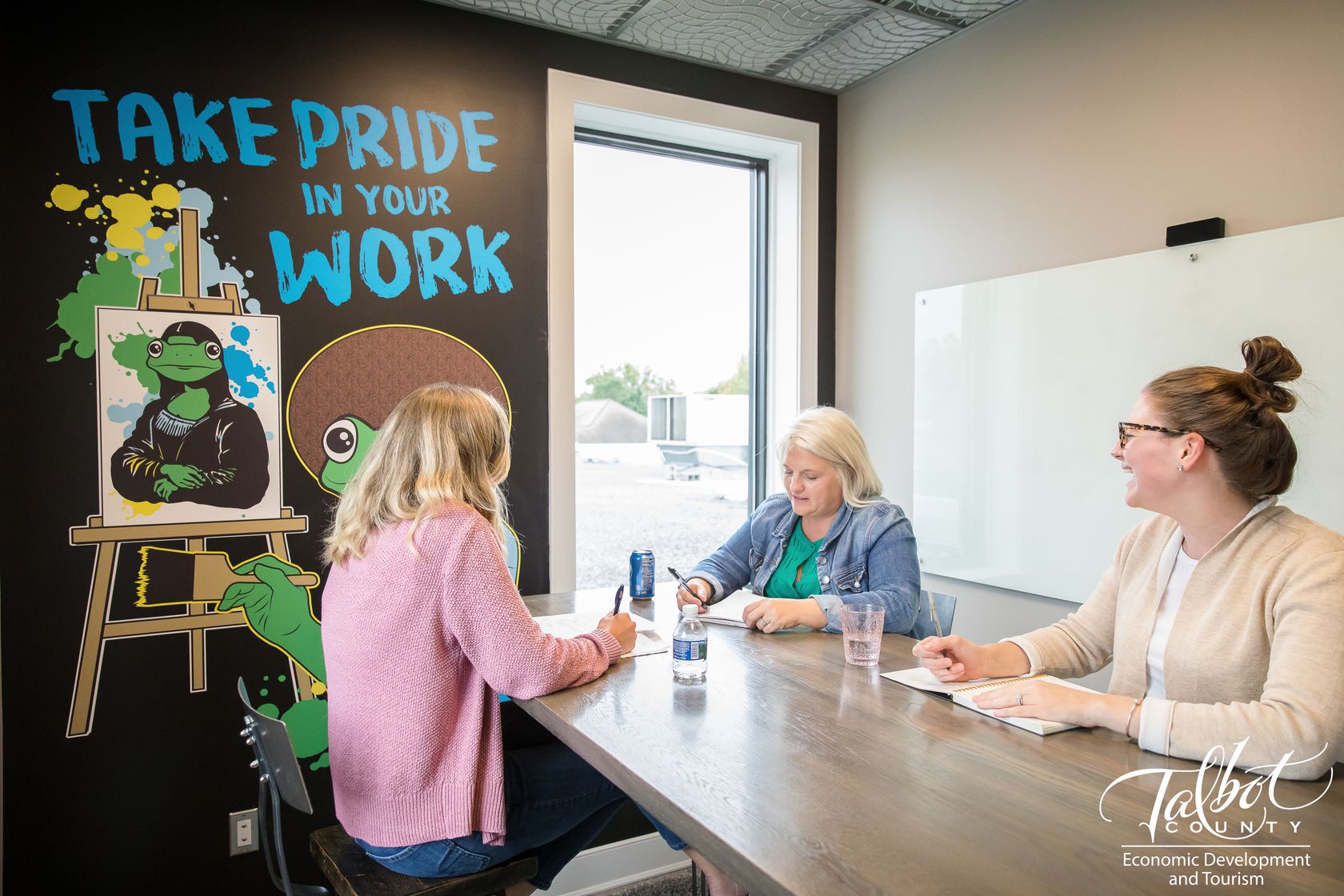 A younger, more digital Talbot County: The story of iFrog Digital Marketing
In today's digital marketing age, it can be difficult to keep up with trends and strategies to make your business stand out. Lucky for Talbot County, iFrog Digital Marketing has chosen Easton as its home.
They rightfully call themselves a "marketing solutions company," offering top notch digital marketing tools for their clients, working mainly with car dealerships. Located on Bay Street in an old Coca-Cola Bottling plant, iFrog has made their home among some of the most advanced businesses in Talbot County.
"Born in a dealership"
iFrog was an idea formed in the mind of Preston Automotive Group's founder and chairman, Dave Wilson, Sr., with the belief that his company's marketing expertise could help other dealerships around the country. In 2013, Wilson went to Brent Durham, now iFrog's Chief Operating Officer, with a plan to use Preston Ford's marketing success as a model for other dealerships. On April 9, 2015, they received their first outside client, officially launching iFrog Digital Marketing.
Capitalizing on Preston Ford's success, iFrog was named after the Preston Automotive group's mascot—the frog, which has become a local icon, synonymous with the Preston Ford brand. iFrog has been able to maintain the values with which Wilson started his dealership.
A Marking Solutions Company
iFrog's many client base consists of automotive dealerships located coast to coast, though the company has recently expanded into new markets.  Non-profit groups, educational institutions, and the hospitality industry have begun to yield new clients. The company has worked with a number of local organizations and businesses including Saints Peter and Paul, Tuckahoe Hardwoods, Coffee Trappe, Marlboro Place Living, and Safe House.
The services iFrog offers are vast and include SEO, SEM, graphic design, mobile advertising, website design and management, social media, targeted and re-targeting display advertising, email campaigns, online reputation management, and consulting.
Modernizing a historic space in downtown Easton
After moving the newly launched agency to the historic Coca-Cola bottling plant on Bay Street in 2016, Wilson decided to purchase the entire property. He and his wife Peggy have transformed the building into an impressive, modern workplace.
Today, iFrog's sleek office space, exposed beams of Carnegie steel, give way to the old warehouse ascetic. The space is decorated with blacks, grays, and browns and brightened with pops of color added by Wilson's neon sign collection. iFrog's 9 Core Values are painted on the walls in a splash of color. It's a space designed to appeal directly to the young workforce iFrog is attracting.
Ushering in a young, modern culture to Talbot County
iFrog also caters to its 53 employees by putting an emphasis on training. The company hires the best candidates, then focuses on training them to make sure they are giving their clients the best service.
Culture is very important to the iFrog brand too. Company leaders hope to win clients for life, giving them customer service that outlasts the "honeymoon stage" and wowing them every step of the way. iFrog's Chief Operating Officer, Brent Durham, credited iFrog's success to their 9 Core Values. Values like "spark creativity" and "embrace change" guide the company in everything they do.
Why Talbot County?
Though Durham says the company has plans to expand into new offices across the country, Talbot County will always be their home. He believes Easton is the perfect place to welcome in new employees and clients because of the mix of rural and urban space. He says the atmosphere is ideal for conducting business and building relationships. Whether it's taking them to a local eatery or having them stay at local accommodations like the Tidewater Inn, their clients can learn more about where iFrog came from and their way of thinking.
What's next?
Durham says that iFrog is currently in its "iFrog 3.0 stage." The company recently brought on a new CEO and plans to grow its workforce and clientele within the next year, expanding into unused areas of their office building. Work is underway in developing their own proprietary digital products to sell to customers and sustain their competitive advantage. You'll also see the growing company continue to diversify its client base.
iFrog has leaped ahead of its competitors and has quickly become a local success story. Learn more about iFrog here.
About Talbot County Department of Economic Development and Tourism
The Office of Economic Development and the Office of Tourism were merged in 2016 by the Talbot County County Council to fully leverage the synergy and common interest of the two offices. The mission of the Department of Economic Development and Tourism is to enhance and promote a business-friendly environment for current and prospective enterprises and to advocate for policies that support and strengthen the economic vitality of Talbot County. The vision the department sees for Talbot County is simple: Strong Communities. Empowered Businesses. Innovative Solutions.
If you own or operate a business here in Talbot County, or want to start one, you are encouraged to contact the Department of  Economic Development and Tourism at 410-770-8058 or visit their office at 215 Bay Street, Suite 5, Easton, MD.