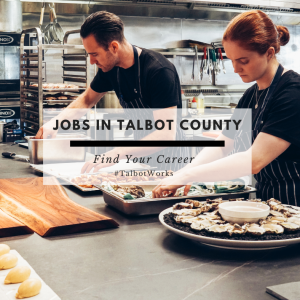 It's a great time to find a job in Talbot County. Click on the links below for more information.
Acts Retirement-Life Communities Bayleigh Chase in Easton has more than 15 openings, including:
Licensed Practical Nurse
Dining Room Server
Director Culinary and Nutrition Services
Geriatric Nursing Assistant
 Aphena Pharma in Easton has many openings to fill, including:
Machine Operator
Analytical Chemist
Customer Service Coordinator
Laboratory Supervisor
Project Manager
Big Lots in Easton is looking for a Sales Manager – Furniture, Retail Freight Processing Lead, Assistant Store Manager, and Retail Service Lead.
Channel Marker in Easton is hiring a Behavioral Health Therapist. Must be willing to travel to locations in Talbot, Caroline, and Dorchester counties.
 Home Instead in Easton is looking for Caregivers.
 Inn At Perry Cabin in St. Michaels is looking for:
Assistant Director of Finance
Boating Concierge
Administrative Assistant Sales Department
Pastry Chef and Cooks
Multiple On Call Banquet Positions
Server Assistant
Dishwasher
Massage Therapist
Mid-Atlantic Waste Systems in Easton is looking for a Human Resources Generalist, Senior Accountant, Assistant Controller, and Shop Assistant.
 Talbot County Government has openings for:
Administrative Assistant
Collection System Operator I
Communications Specialist I
Director of Human Resources
EMT-B/Driver
Facilities Maintenance Technician
Finance Director
Senior Engineer
Entry Level and Lateral Deputy Sheriffs
 UM Shore Regional Health in Easton is looking for a variety of professionals, including:
Academic Services Coordinator
Access Representative
Clinical Nurse II
Collegiate Student Nurse
CTG Tech II
Environmental Services Technician
HR Business Partner
Licensed Practical Nurse
Medical Lab Assistant; Phlebotomist
New Grad Registered Nurse – Residency Program
 YMCA is looking for:
Stay and Play Staff (St. Michaels)
Water Exercise Instructor (St. Michaels)
YMCA Summer Program Staff (St. Michaels)
Group Exercise Instructors (Easton and St. Michaels)
Lifeguards (Easton and St. Michaels)
Swim instructors (Easton and St. Michaels)
For more listings, check out:
College Central Network
Chesapeake College uses College Central Network as its official job search and job posting service. The exclusive site can be accessed 24/7 at www.collegecentral.com/chesapeake.
Job Seekers, quickly apply to jobs and Internship opportunities posted exclusively for you, and search other opportunities via Jobs Central® and Intern Central®, national job boards.
Employers post unlimited jobs for free to talented student, alumni and community members
Android & iPhone smartphone app is available for download at com/app
 American Jobs Centers Network
The American Jobs Centers Network ((https://www.dllr.state.md.us/county/uppershore/) is a partnership between local workforce development agencies including the Maryland Department of Labor – Division of Workforce Development, Upper Shore Workforce Development Board, Department of Rehabilitation Services, and Disability Navigator.
The Talbot County American Job Center is located at 301 Bay Street, Suite 301 | Easton, MD 21601 (behind Acme). The phone number is 410-822-3030.
About Talbot County Department of Economic Development and Tourism
The mission of the department is to enhance and promote a business-friendly environment for current and prospective enterprises and to advocate for policies that support and strengthen the economic vitality of Talbot County. The vision the department sees for Talbot County is simple: Strong Communities. Empowered Businesses. Innovative Solutions.
If you own or operate a business in Talbot County, or want to start one, contact the Department of Economic Development and Tourism at 410-770-8000.