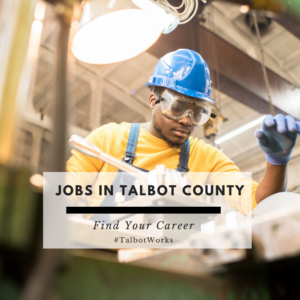 Acme in Easton is looking for:
Grocery Clerk
Cake Decorator
Cashier
Produce Clerk
In-Store Shopper
Acts/Bayleigh Chase in Easton is hiring:
Restorative Aide
Laundry Aide
RNs and LPNs
Receptionist
Hair Stylist
Security Guard
Dishwasher
Aphena Pharma Solutions in Easton has many openings to fill, including:
Maintenance Technician
Production Supervisor 2nd Shift
Quality Associate
Senior Purchasing Agent
Training Specialist
Machine Operator
Warehouse Clerk
Caloris Engineering in Easton is seeking to hire:
Construction Manager
Project Engineer
Project Manager
Junior Process Engineer
Process Engineer
Senior Process Engineer
Chesapeake Bay Maritime Museum in St. Michaels has full- and part-time openings for:
Accountant
Building Maintenance Mechanic
Events and Group Services Coordinator
Festival Coordinator
Registrar
Chesapeake College in Wye had openings for:
Construction and Skilled Trades Instructors
Health Compliance Coordinator
Psychology Instructor
Public Safety Officers
Mathematics Faculty
Introduction to Art Adjunct
Coca-Cola Consolidated, Inc. in Easton is looking for a fulltime Merchandiser.
Eurofins in Easton is looking for:
Assistant Scientist I, Analytic Chemistry
Laboratory Technician, Biodegradation
Technical Scientific Writer
Quality Assurance Associate
Goodwill in Easton is hiring:
Inn at Perry Cabin in St. Michaels has openings for:
Assistant Director Food and Beverage
Administrative Assistant Sales and Marketing
Front Office Manager
Maintenance Supervisor
Turndown Attendants and Housekeepers
Restaurant Servers
Neighborhood Service Center in Easton has an opening for an Office Assistant for its Emergency Rental Assistance Program. Interested applicants should email a cover letter and resume to mneal@nsctalbotmd.org.
 Qlarant in Easton is searching for:
Administrative Assistant
Fraud, Waste and Abuse Specialist
Data Analyst, Entry Level
System Administrator
Shore United Bank has openings in Easton for:
Branch Banking Representative
Facility Manager
Management Trainee
Branch Banking Representative, Spanish-Speaking
Talbot County Government has openings for:
Building and Codes Compliance Officer
Correctional Officer
Court Recorder
Inmate Programs Coordinator
Planner III
Senior Engineer
Talbot County Public Schools is looking for:
Custodian
Instructional Assistant
Substitute Teacher
Elementary Teach
Music Teacher
Speech Therapist
The Nature Conservancy in Easton is searching for a Coastal Adaptation Scientist and an Agriculture Conservation Specialist.
UM Shore Regional Health in Easton is looking for a variety of professionals, including:
Front Officer Coordinator/Medical Assistant
Nurse Midwife
Registered Nurses
Radiology Clerk
Infection Preventionist (RN)
Food Service Associate
Pharmacy Technician I
Heart and Vascular Center Director
MRI Tech
UPS in Easton is hiring Delivery Driver Helpers and Warehouse Workers.
Walmart in Easton has openings for Stocking and Unloading, Online Order Filling and Delivery, Front End Coach.
Wylder All Seasons Resort on Tilghman Island is looking for the following positions. Apply in person or via email to kseymour@wylderhotels.com.
Assistant General Manager
Sous Chef
Housekeeping Supervisor
Guest Service Agent
YMCA in Talbot County is hiring:
Youth and Family Programming Director (Peachblossom)
Personal Trainer (Peachblossom(
Custodian (Peachblossom and St. Michaels)
Membership Services Representative (Peachblossom and St. Michaels)
Group Exercise Instructor (Peachblossom and St. Michaels)
Membership Services Representative (Peachblossom and St. Michaels)
Lead Lifeguard (St. Michaels)
Rockwall Climbing Staff (Peachblossom)
For more listings, check out:
College Central Network
Chesapeake College uses College Central Network as its official job search and job posting service. The exclusive site can be accessed 24/7 at www.collegecentral.com/chesapeake.
Job Seekers, quickly apply to jobs and Internship opportunities posted exclusively for you, and search other opportunities via Jobs Central® and Intern Central®, national job boards.
Employers post unlimited jobs for free to talented student, alumni and community members
Android & iPhone smartphone app is available for download at com/app
American Jobs Centers Network
The American Jobs Centers Network ((https://www.dllr.state.md.us/county/uppershore/) is a partnership between local workforce development agencies including the Maryland Department of Labor – Division of Workforce Development, Upper Shore Workforce Development Board, Department of Rehabilitation Services, and Disability Navigator.
The Talbot County American Job Center is located at 301 Bay Street, Suite 301 | Easton, MD 21601 (behind Acme). The phone number is 410-822-3030.
About Talbot County Department of Economic Development and Tourism
The mission of the department is to enhance and promote a business-friendly environment for current and prospective enterprises and to advocate for policies that support and strengthen the economic vitality of Talbot County. The vision the department sees for Talbot County is simple: Strong Communities. Empowered Businesses. Innovative Solutions.
If you own or operate a business in Talbot County, or want to start one, contact the Department of Economic Development and Tourism at 410-770-8000.