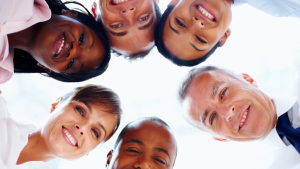 Talbot Family Network and Talbot County Economic Development and Tourism are joining forces to bring workforce resources to area employers.
Business owners, managers, supervisors, human resource professionals, and interested community members are invited to a free virtual seminar on May 5, 2021, from 8:30 a.m. – 3:30 p.m. that explores economic diversity in the workplace. This event coincides with National Travel and Tourism Week, May 2-8, and is a prelude to International Economic Development Week, May 9-15.
In any workplace, employee instability can lead to company instability. In this workshop, participants will gain tools for improving employee retention and reducing employee turnover while accessing the hidden talent in their organization. From improved recruiting and onboarding processes to promoting valuable employees from within, Workplace Stability covers every stage of the employee life cycle.
This is one of a series of community poverty education resources that Talbot Family Network provides using the Bridges Out of Poverty Framework. Bridges brings people from all sectors and economic classes together to build resources, improve outcomes, and support those who are moving out of poverty.
"We are pleased to partner with Talbot Family Network to provide this seminar to our business leaders," says Cassandra Vanhooser, director of Talbot County Economic Development and Tourism. "A qualified, committed workforce is one of the most pressing needs for employers across all sectors. This training will help our businesses gain the tools they need to identify talent in unexpected places."
Advance registration is required. To sign up, go to https://tinyurl.com/WorkplaceStability . Community members may also contact talbotfamilynetwork@talbotcountymd.gov to register and for additional information.
"If you're an employer looking for practical solutions, this training is for you," notes Nancy Andrew, executive director of Talbot Family Network. "The Bridges Out of Poverty Framework provides a unique understanding of economic diversity that can give individuals, organizations, and employers new tools for building stability and sustainability."
Talbot Family Network is the Local Management Board for Talbot County. Maryland established Local Management Boards in the mid-1990's to change the way that local communities provide services to children and families in. Today, Talbot Family Network concentrates on prevention, early intervention, and intervention services to children, youth and families in the county. Tasks include planning, developing and monitoring family-oriented, community-based programs that are culturally relevant.