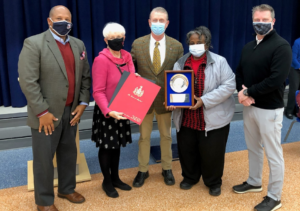 "I just like helping people," says Naomi Diane Thomas, who was named Talbot County's Most Beautiful Person in a ceremony held Dec. 6 at the Easton Elementary School. The award is presented annually by the Talbot County Council to a volunteer who goes to extraordinary lengths to help others.
Known to friends and family as "Lady D," Thomas has been the chairman of the Scotts United Methodist Church Outreach Committee since 2006. She organizes monthly food distribution events that serve between 125 and 150 families in Trappe and the surrounding areas.
"I have been a member of Scotts all my life," Thomas says. "When I say I'm going to do something, I work hard at it. I may not be able to solve every problem they have, but I can help people get the food they need."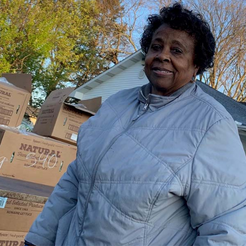 Though her volunteer service has benefitted the community for more than 15 years, Thomas's work was especially impactful during the worst of the pandemic. From March 2020 through March 2021, Scotts Church served 4,966 individuals and distributed more than 130,000 lbs. of food.
Jan Willis, local care team coordinator for Talbot Family Network who manages the food group for the Talbot County Emergency Operations Center, nominated Thomas. "Before COVID-19, organizing an event of this size was a huge undertaking," Willis says. "But during the pandemic it became significantly more difficult. Lady D did not shy away from the challenge or the threat of COVID."
Though many of her regular volunteers were in the high-risk category for COVID-19, Thomas refused to be stopped. She contacted the Maryland Food Bank and asked for help. They connected her with the Talbot County Emergency Operations Food and Volunteer Group for support.
Working from a conceptual outline from Maryland Food Bank about COVID-safe food distributions and working with helpers from the Emergency Operations volunteer list, Thomas organized and directed Talbot County's first drive-thru food distribution on March 26, 2020. At this event, she instructed many of the people who would replicate the model throughout Talbot County.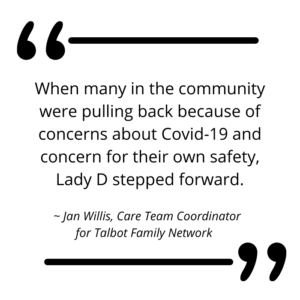 "When many in the community were pulling back because of concerns about Covid-19 and concern for their own safety, Lady D stepped forward," Willis says. "She found a way to overcome barriers because she knew that the neighbors and families she had served for more than 15 years would need food resources more than ever."
Thomas says older members of the Scotts congregation now help in other ways, but the volunteers who emerged during the pandemic still show up every month to help distribute food. "I call them my dedicated volunteers," she says. "They are all residents of Talbot County. They've been wonderful. Simply wonderful."
Though Thomas's experience and leadership were invaluable, her kindness and compassion are what truly set her apart. "I know most of the people who come here by name," she explains. "I try to keep a personal relationship with them and share information about things they need to know. Some of them even call to let me know if they can't attend so I won't worry."
"Lady D treats the volunteers and food distribution recipients with the same respect," Willis notes. "She has been a key partner in sharing information about Covid-19 testing and vaccination to food distribution participants."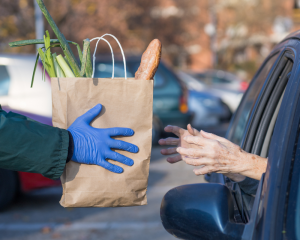 In addition to her work distributing food, Thomas leads five devotionals at Scotts and now distributes an email she calls Tuesday Morning Encouragement. Her mailing list has grown to more than 100 people. "I just pull out key sentences that speak to me," she says.
This was the second time Thomas has been nominated for the award. "I was very excited, but I was surprised," the retired school teacher says. "At first, I didn't believe it."
Thomas received a standing ovation from a crowd that included elected and appointed officials, as well as six other nominees and their supporters. Talbot County's list of Most Beautiful People nominees included Dianna Donovan, Lesley Fields, Brian Griffiths, Christine Kijowski, Chris Myles-Tochko, and Debbie Urry.