Midshipmen from the United States Naval Academy will come to Easton Airport this summer to participate in the academy's Powered Flight Program. The training program, conducted by Trident Aircraft, is one of the most comprehensive curriculums in the country. COVID-19 grounded courses in 2020, but with restrictions lifting and a backlog of students ready to fly, Trident instructors will train one of the largest classes in recent years.
Trident Aircraft President John Galdieri has worked with the U.S. Naval Academy to facilitate the Powered Flight Program since 2014. As a Naval Academy alum, he understands the need for immersive flight training for Midshipmen at the early stages of their military career. The courses conducted at Easton Airport help students understand the nuances and challenges of piloting an aircraft in real world situations.
"Trident is extremely proud to be able to provide flight training to the future defenders of our nation," Galdieri said. 
Trident Aircraft is an aviation company based in Easton, Maryland that was founded in 2006 by Galdieri, a USNA graduate. Trident Aircraft employs 60 personnel and operates in excess of 50 aircraft in flig

ht training, charter, and jet management programs.
Trident Aircraft's Easton flight training operation has instructed over 1,500 Midshipman since the program's inception. Over 90% of the students that participate are able to conduct a flight as the sole occupant of the aircraft within two weeks of the start of their instruction.
Easton Airport's proximity to the academy and robust infrastructure provides an ideal location to conduct the summer flights.
"Easton Airport offers the location, facilities, and staff needed to gain the support of USNA in bringing their flight school to the Eastern Shore," Galdieri said. "Easton Airport is the perfect location for this intensive training due to the friendly and supportive Air Traffic Control Tower staff, the intersecting runways allowing students to have favorable winds, and expansive training airspace."
This summer's program will host nearly 200 Naval Academy Midshipman and Officers in Trident Aircraft's home base at Easton Airport. The Powered Flight Program creates approximately 20 seasonal jobs each year.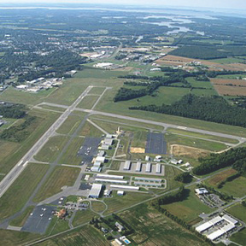 Easton Airport is prepared for as many as 1,000 daily operations between June and August. That amount of air traffic would make Easton Airport one of, if not the most, active airports in Maryland during that period.
"It's an honor to host the Navy's Powered Flight Program here at Easton Airport," Easton Airport Manager Micah Risher said. "As a Navy Veteran myself, it makes me proud that we are playing a small role in defending our country and laying the foundation for our future naval aviators"
Easton Airport (ESN) is a general aviation airport that is owned and operated by Talbot County and provides essential access for aviation enthusiasts, corporate pilots, and local businesses. Easton Airport is one of the busiest general aviation facilities in Maryland.