In 2020, there's no longer a question about the value of women in the workplace.
In the past 20 years, women-owned businesses have increased by 114%, with women now owning four out of every 10 businesses in the U.S. Women also account for 40% of the global workforce and control more than $20 trillion in annual spending. Predictions say these numbers will continue to grow in the coming years.
As the Year of the Woman draws to a close and we prepare to celebrate National Entrepreneurship Month, TalbotWorks pays tribute to Talbot County's women entrepreneurs. Let their stories inspire you!
Unique Partnership Grows Local Ag Business
Donna Saathoff and Nicole Barth still laugh when they tell the story about making their first large equipment purchase. When they went to a neighboring state to pick up a large tractor implement, the dealer asked, "Where's your man?"
Saathoff, who has been married for more than 35 years, replied with an easy quip. "He's in the car, but I'm not sure why you'd want to speak with him since I'm the one with the checkbook."
The two Talbot County entrepreneurs are part of a growing group of woman leading agricultural operations, though they still find themselves in the minority. What's more, the "besties" formed a partnership that is still rare in the agriculture industry.
When they started Family Affair Farm in 2013, Saathoff was working in community health in the local school system, but she was itching to start a business on the farm where she raised her kids, nearby the farm that has been in her husband's family for more than 100 years. At the same time, Barth was teaching. She too ached to return to farming, but had no "family land." The business partnership they formed allows them both to pursue their dreams.
Today, Family Affair Farm is the only u-pick operation in Talbot County and attracts hundreds of families and school children every year. "Some of my fondest memories as a child where picking berries with my grandmother, Tessie," recalls Saathoff. "We wanted to give others that experience."
Seeking information from others has been key to their success. "Women involved in agriculture are incredibly supportive of one another," Barth says. "And there are tons of resources to help ag entrepreneurs succeed."
Included in that list is Annie's Project, a nonprofit that's devoted to helping women become better agribusiness managers and partners. Over the course of several weeks, participants study business planning, financial planning and resources, law, and succession planning, among other subjects.
Though both Saathoff and Barth have strong agricultural backgrounds, they agree that they would not be as successful had they not participated in programs like Annie's Project and attended conferences like the Women in Agriculture. They also acknowledge the support they have from family.
"We didn't do this alone," Saathoff stresses. "We have the support of family and friends, as well as experts like Shannon Dill, Talbot County's extension educator. We are the people everyone sees, but there are a lot of people behind us."
Oxford Couple Charts Successful Course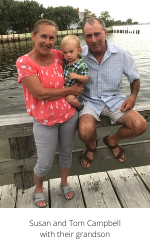 Boat building and marina operations are also industries where female entrepreneurs are rare.
Tom and Susan Campbell launched their business with a single boatyard in 1995. Today, Campbell's Boatyards has three facilities in Oxford with 176 permanent and transient slips, plus they offer winter dry storage, boat repair, haul-out services, and indoor storage. Their custom boatbuilding shop has produced more than a dozen boats over the years.
Susan is quick to share that she would not have pursued that line of business had it not been for her husband and business partner, Tom. "We are a full-service operation," she explains. "I run the business side of the operation, including marketing and payroll. We are 50/50 partners."
Most of Campbell's employees have been with them for more than 10 years, and two of Susan's brothers-in-law work for the business. "I married one Campbell and got three," she says with a laugh.
While both she and her husband love the water, building their business took research and seeking out resources from places like the Small Business Development Center. "If you are thinking about starting a business, go slow and do your research," Susan advises.
She adds that working with local bankers and accountants has been one of the keys to their success. "There are a lot of knowledgeable, helpful people in Talbot County who are willing to help small businesses," Susan says. "Take advantage of all of the resources you can find."
Partners Clean Up in Business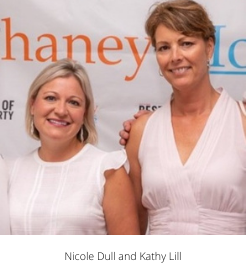 "I am thankful to live in a place where we have opportunities," says Kathy Lill, co-owner of Tidewater Cleaning in Easton. "Talbot County is a great place to have a business."
Lill, and her business partner Nicole Dull, were friends before becoming business partners, and they have capitalized on the strengths each brings to the business. They started their cleaning business 10 years ago and today have grown to 38 full- and part-time employees to whom they offer benefits, including a retirement plan.
Dull handles estimating, scheduling, and contracts, and Lill handles payroll, insurance, and human resource laws. "Owning a business together is like a marriage," Dull observes. "It's based on trust and balance."
They both love the freedom of being their own boss. Having a trusted partner also gives them mutual support to overcome challenges. Both are quick to admit that the area's rich small business resources have helped them start and grow the business.
"SCORE was very helpful," Lill says. "And we can't say enough good things about Mike Thielke at the Eastern Shore Entrepreneurship Center, not to mention Lisa Twilley at the Women's Business Center. There have been so many, including the Chesapeake Women's Network and the Talbot County Chamber of Commerce."
Their advice to other entrepreneurs: "Take advantage of the resources available in Talbot County, pursue work that makes you happy, and show up every day and do the best you can."
Coast Clear for St. Michaels Retailer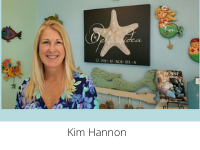 Often the first question Kim Hannon is asked is how to pronounce the name of her business, Ophiuriodea. "Think of 'off your rocker,'" she says with a smile. "It's pronounced like 'off-your-oid-dee-a.' It's a type of sea star."
The choice of her business name helps explain Hannon's love of sea glass and all things coastal. Her explanation of how to pronounce the word also might be a nod to the myriad of things she's involved in.
In addition to her retail businesses, Kim is an artist, as well as president of the St. Michaels Business Association and founder of the Eastern Shore Sea Glass & Coastal Arts Festival. She also works full-time for a waste company.
Hannon is quick to say that she has been with her current employer for 17 years. Having another income allows her to invest in her business and other pursuits. This includes launching one of St. Michaels' most successful events in 2010 and opening a second store location in Kent Island in 2019. The town's sea glass festival has grown to the largest in the world, with more than 90 vendors and 9,000 attendees.
When giving advice to other entrepreneurs, Hannon says reach out to the local business associations to network, develop ideas, and learn about local events. That's one of the reasons she serves as president of the St. Michaels Business Association despite all of her other commitments.
"I joined shortly after opening my shop and have served on the board for almost eight years," states Hannon. "Being involved in the community is important to me."
Do know a great entrepreneur you think we should feature? Or maybe you're ready to start your own business? Drop us a line at talbotcountyecodev@gmail.com