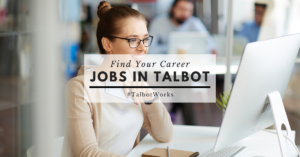 Millions of workers around the country have lost their jobs because of the economic crisis caused by the spread of the COVID-19 virus, but some employers in Talbot County are still hiring. A wealth of resources are available for both job seekers and employers alike.
The Upper Shore American Job Centers Network operates in partnership with other local agencies to respond to area workforce development needs with offices in Talbot County, as well as Caroline, Dorchester, Kent, and Queen Anne's. Prospective employees can take advantage of career exploration assistance, referrals to training programs, placement services, resume preparation assistance, and workshops to enhance job-seeking skills and work readiness. Internet accessible computers and other equipment are available to the public when the offices are open.
The Maryland Workforce Exchange (MWE) website provides information on available jobs, sought-after skills, workshops and training, job fairs and labor market information. According to the MWE, more than 200 jobs are available in Talbot County alone. By registering online, job seekers can receive up-to-date information, assistance and information.
Businesses also should see the centers as a resource. HR directors can use the MWE website to cultivate talent pipelines and search for employees with specific skills. Business Services staff can help managers develop recruitment and retention strategies that may also incorporate other available state resources.
The American Job Center in Talbot County is located at 301 Bay Street, Suite 301. Though the office currently is closed to the public, information and assistance are available online or by calling 410-822-3030.