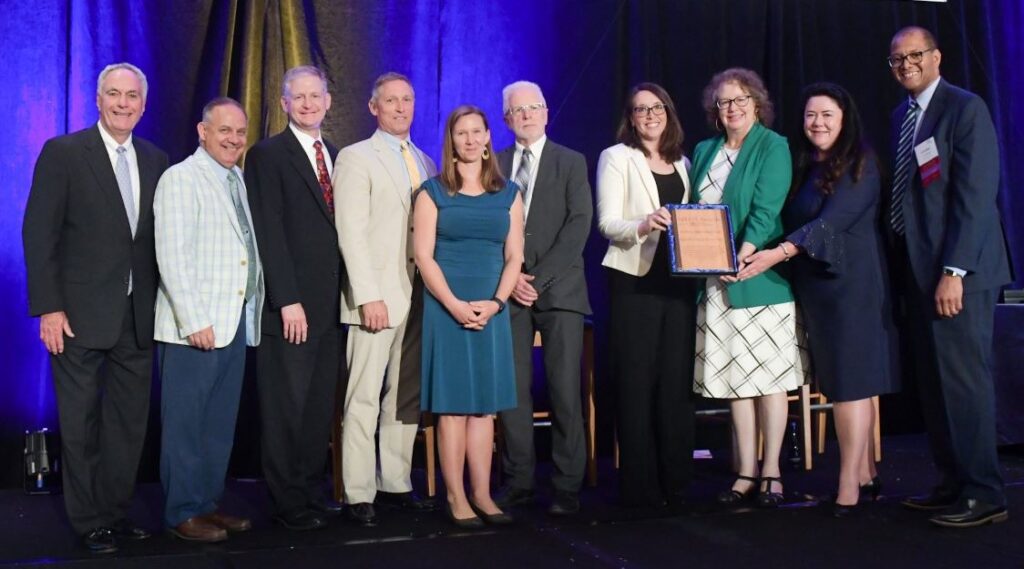 Talbot County and partners from around the Eastern Shore received an award of excellence for the Eastern Shore Economic Recovery Project at the Maryland Economic Development Association's annual conference in April.
Economic development practitioners in Caroline, Dorchester, and Talbot counties joined the Mid-Shore Regional Council and the Tri-County Council of the Lower Eastern Shore to work on this project. Along with the Lower Shore Workforce Alliance and the Upper Shore Workforce Investment Board, they worked with Salisbury University's Eastern Shore Regional GIS Cooperative (ESRGC) to develop and release a website housing dashboards that point to the economic health of the region.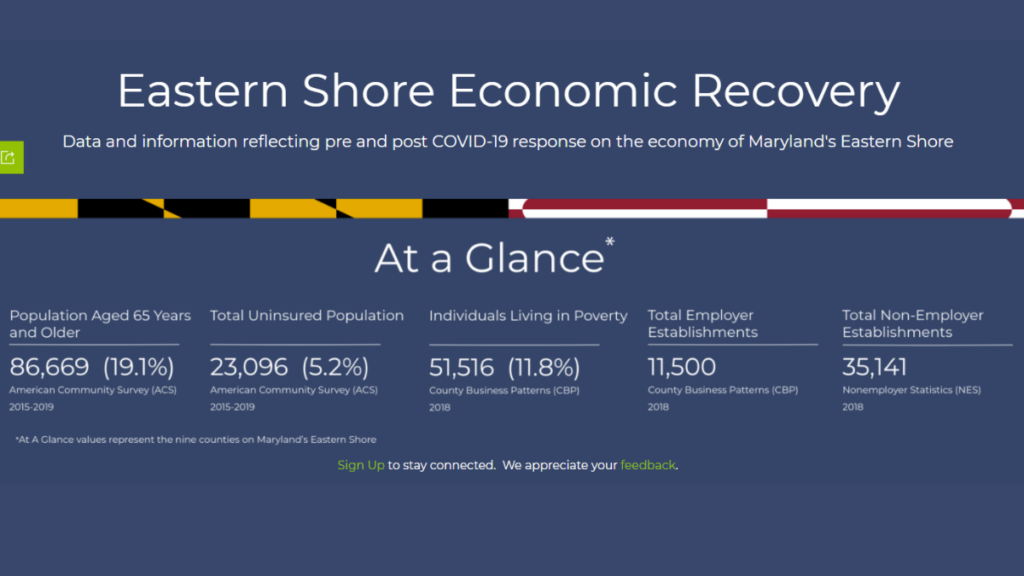 Included on the website is a set of original sales tax dashboards that map Maryland sales tax collections, showing the dramatic impact of the pandemic on businesses, and a bi-annual survey that tracks business sentiment locally and regionally. Together, these tools help officials identify challenges facing the region and assist in long-term planning and the development of public policy.
While the tools created for the Eastern Shore Economic Recovery Project will have many uses, first and foremost, they give decision-makers a way to track the status of the local economy, giving them the information they need to understand long-term trends and anticipate challenges.
Funded by a $507,000 grant from the U.S. Economic Development Administration, the 24-month project is now in its final phase which includes an outreach campaign to demonstrate the use of the tools to stakeholders, including elected officials and business leaders.
The Eastern Shore Economic Recovery Project will ultimately become part of the Delmarva Index, a tool the ESRGC has developed as a centralized repository that provides streamlined access to data and visualization of information about the Delmarva Peninsula.
MEDA annually recognizes economic development leaders who move their communities forward in extraordinary ways. Danny Thompson, director of Somerset County Economic Development and president of MEDA, sums it up best.
"Maryland's economic development community continually rises to the challenge," Thompson says. "While the circumstances may be difficult, their vision never waver. They create the opportunities that expand jobs and enhance our communities."
To access the Eastern Shore Economic Recovery Project and the entire Delmarva Index, visit delmarvaindex.org.