So you made it through 2020. Now what?
January is a great time take stock of your business operations and assess any changes you might need to make to get through the first quarter of 2021 and beyond.
Rich Loeffler, business consultant for the Small Business Development Center, has some advice for navigating through these unsettling times. He suggest these three action items: 1) evaluate where your business is now, 2) take care of your employees, and 3) work closely with your lender.
 Assess Your Current Situation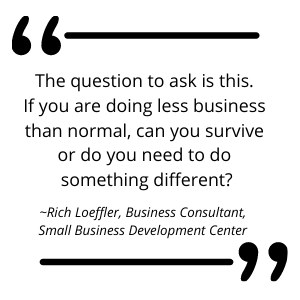 In trying times, it's important to have a clear view of your business situation. "Every business owner has a dashboard they use to figure out how their business is fairing," says Loeffler. "The question to ask is this. If you are doing less business than normal, can you survive or do you need to do something different?"
Evaluate where you are financially compared to this time last year. "If the numbers aren't where they need to be, it might be time to make changes," he says "For many businesses, the numbers are of out of whack, which means businesses must do something different."
Loeffler suggests using slower periods to consider changes that can improve your business position— consider developing a new marketing concept, adding new product line, or changing the merchandise you offer. Some businesses have increased online sales to make up for foot traffic.
Engage Your Employees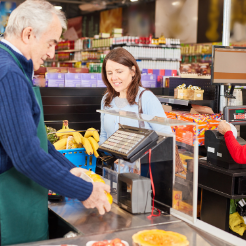 A business is only as good as its employees, Loeffler notes. During stressful times, business owners often fail to communicate effectively, leaving their workers to wonder about what's going on and the security of their position. "Employees are the lifeblood of your business," says Loeffler. "It's important to keep the people you've invested in busy and on the payroll.
Employees know the customers and may have ideas for increasing sales. They can also help business owners spruce up their storefront or rearrange merchandise based on customer interests. Down time is also a good time to plan extra training, especially if you decide to expand into new markets or purchase new equipment. You can also keep employees busy making improvements to your business facilities.
Get to Know Your Lender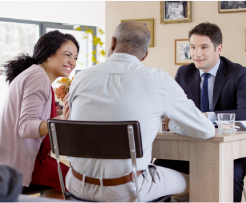 Your banker or lender is also a key partner in your business success. Loeffler advises using this time to develop or strengthen your relationship.
"Bankers don't like surprises," cautions Loeffler. "They want to know if you are having difficulty. And they may have ideas that can help you make it through tough times or make needed changes to improve your business."
For more information about the Small Business Development Center and access to their business resources, including a Small Business Survival Guide, click here.