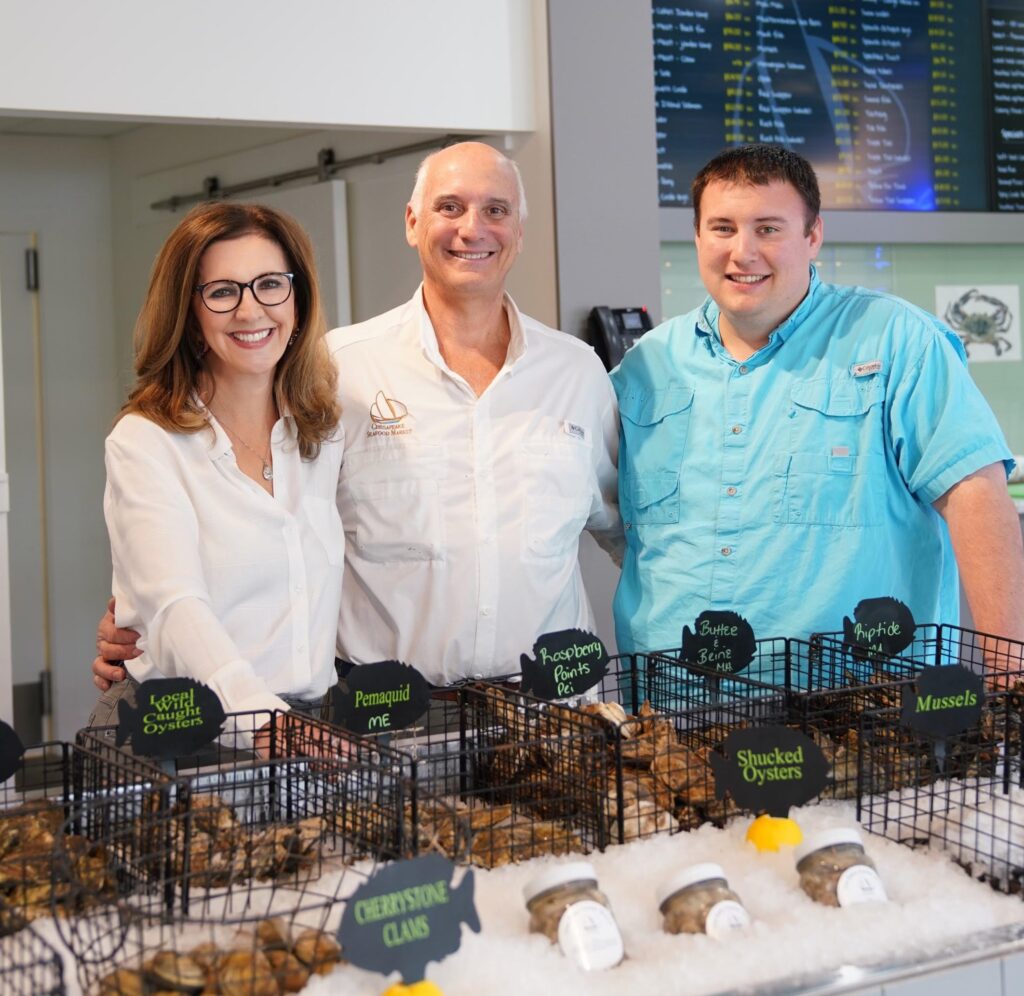 Adam Higgins partnered with his father Glenn and stepmother Linda to open Chesapeake Seafood and Prime Meats when their catering business took a nosedive during the pandemic. Customers have embraced this new venture, but long-time residents may get a sense of déjà vu when they visit the market. Adam is following in the footsteps of his entrepreneurial grandfather, a waterman who opened a processing facility and seafood market on the same footprint five decades ago.
________________________________
Chesapeake Seafood and Prime Meats is a hive of activity on a Saturday morning.
Stylish and modern, the market is a feast for the senses. On one side of the building, customers find the freshest seafood from the Chesapeake Bay and around the world. In addition to wild-caught rockfish and fresh Chesapeake Bay crabmeat, the display features Norwegian salmon, whole sardines, and oysters on ice with names like Blue Point, Malpeque, Wellfleet, and Riptide.
On the other side, a glass case brims with prime and choice cuts of beef — filet mignon, fresh ground burgers, and the ever-popular tomahawk chops. A glass-front locker for dry aging beef has been installed behind the counter, and there's a rotisserie for roasting chickens. A full-time butcher keeps the cases well stocked.
A spice station artfully bridges the two sides of the store. Here customers scoop aromatics imported from the Turkish spice market and displayed on an antique peddler's wagon that Linda and Glenn purchased on sight.
Prepackaged spices are also available in the market, as are a host of gourmet food items, from flash-frozen oysters Rockefeller and fresh lobster bisque to smoked salmon pâté and grab-and-go freshly made sandwiches.
Launched in a Pandemic
Adam Higgins beams as he surveys the gleaming market. He opened the store with his father Glenn and stepmother Linda in May 2021 as the coronavirus pandemic continued to ravage the economy. He's proud of the work they've done to make the market a success.
Well-known caterers, Adam and Glenn also own Chesapeake Seafood Caterers, a unit that specializes in large-scale crab and seafood feasts. Before COVID-19, their team catered as many as 150 events a year for crowds as large as 2,000 people. The pandemic effectively shut down that side of the business for a couple of years, and while it has picked up, the catering side of the business has not fully rebounded.
"I did five catering jobs in 2020," Adam says. "We opened the market when COVID struck because I needed something to do to make some money. This wasn't even a dream before the pandemic. Now I wish we'd done it sooner."
A Favorite for Foodies
The store is fast becoming a destination for dedicated foodies wanting to savor the tastes of the Chesapeake Bay region and shop a fine assortment of hand-cut meats. In addition to locals, vacationers, and those with second homes in Talbot County, many customers drive from the Western Shore and as far away as Philadelphia to shop at the market. "Anyone who needs and wants the freshest seafood and highest quality meats shops here," he says.
The Talbot County native gives kudos to Linda for the store's design and visual appeal. The light, bright interior bears her signature style, but there also are touches of family history woven into the décor.
Adam points to an antique scale that once weighed crabmeat by the pound for customers at his grandfather's market, a business that once occupied this very same building. A large ship's model his grandfather commissioned adorns a glass case in one corner, and a ship's wheel that came from the family restaurant anchors another display.
"The old restaurant had such good history," Adam says. "We've been trying to keep some of the old and use it where we can. When we were doing construction, I found electrical permits stapled to an I-Beam in here that were dated 1974. My father says he thinks they really opened around '76.

"All of this was a sandlot when my grandfather bought it and constructed the building," Adam continues. "Over the years, it transferred from seafood market to restaurant to multiple other restaurants and then backed to us again as a seafood market."
As it turns out, the store's location at the entrance to St. Michaels is still perfect for attracting customers. "We're right before town, so you're not going to get all jammed up going into town," Adam explains. "When people are leaving to go home, they can swing in real quick. We can package everything and put it on ice for the trip home."
A Family Legacy
Before he opened the original seafood market, Edward Higgins was a working waterman. He too saw an opportunity to expand his horizons, and he took it. In addition to the market and restaurant, Edward operated a softshell clam shucking facility with business partner Bill Jones, located where the Crab Claw Restaurant is now.
"They bought softshell clams, shucked them, canned them, and shipped them all over the United States," Adam says. The family has recently reclaimed the Eastern Shore Clam Company name, and they sell shucked oysters under The Salty Oyster Brand, also a nod to Edward.
Like his grandfather and father before him, Adam is a licensed waterman. His first job was bussing tables in his grandfather's seafood restaurant, and he grew to work in every aspect of the business from dishwasher to line cook. When he graduated from high school, Adam left Talbot County to pursue his fortune elsewhere, working in marine construction and disaster recovery in New Orleans after Hurricane Katrina.
Ultimately, Adam returned to Talbot County and planted his flag in St. Michaels. He now employs up to 11 people in the market and 30 or more in his catering business, some of whom have worked for the family for more than 30 years.
Adam has high hopes for the future of the seafood industry in Talbot County. Challenges continue, he says, including the steep cost of licensing and a declining crab population. Further, many young people today are choosing not to work on the water. Still, Adam hopes his daughter will someday be able to work in the seafood industry here if she chooses.
As for Chesapeake Seafood and Prime Meats, Adam says the time is right for the experience he has created with Glenn and Linda.
"Our vision is to offer a premium product and excellent service," Adam says. "We want to be ones you have to go to find the best food products, and we want to continue to grow with this community."
________________________________________________________________________________________________________________
Chesapeake Seafood and Prime Meats opens 10 a.m.-6 p.m. Mon.-Sat. and 10 a.m.-3 p.m. Sun. For more information, log on to chesapeakemarkets.com or call (410) 745-5056.
Never miss an update: Sign up for Talbot County Economic Development and Tourism's Talbot Works newsletter here.