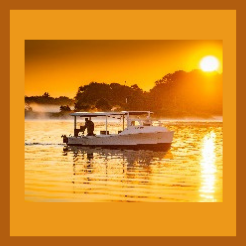 Talbot County's bountiful Chesapeake Bay seafood has long been a draw for foodies and fishermen, but the growing, harvesting, processing, and selling of seafood is also big business in Talbot County.
A total of 505 watermen in Talbot County hold commercial fishing licenses. In 2017, the "dockside" value of crabs harvested in this county alone was nearly $14 million, with the value of clams approaching $600,000 and the value of oysters coming in at $525,000.
Yet Talbot County's connection to the seafood industry goes deeper. Easton is home to Sea Watch International, the world's largest privately owned and vertically integrated clam company. Its headquarters on Glebe Park Drive features a test kitchen where new recipes for frozen clam products are developed.
In addition to a robust restaurant industry, seafood markets and crab shacks where customers can buy the freshest seafood can be found in a number of Talbot County's towns and villages. Wittman Wharf Seafood, one of the county's newest ventures, is tucked away in the village of Wittman.
A Growing Aquaculture Industry
According to the National Oceanic and Atmospheric Administration (NOAA), farmed oysters, clams, and mussels now account for about two-thirds of the total U.S. marine aquaculture production. Aquaculture is a relatively young yet growing industry in Talbot County and on the Eastern Shore, says Kelley Cox of Fisherman's Daughter Oysters on Tilghman Island.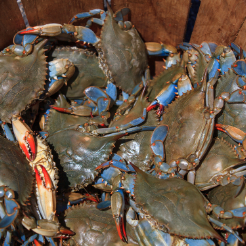 Cox hails from five generations of men and women who worked on the water and founded Phillips Wharf Environmental Center in 2005. Located in a former shucking house that was devastated by Hurricane Isabel in 2003, the center is dedicated to educating future generations about the Bay.
Phillips Wharf now welcomes visitors, conducts research, and owns an oyster farm. Fisherman's Daughter Oysters is a recent addition to the center's activities.
"Most of the technology we use for growing oysters came from New Zealand and Australia," Cox explains. "We're figuring out what works in our area. We're kind of learning as we go."
Though COVID-19 caused Phillips Wharf to close its doors to the public in 2020, the work here has not stopped. Customers can still buy oysters, and the center has transitioned programming to a virtual format.
"We are currently doing virtual lessons and supplying materials to schools," Cox says. "We hope to reopen to the public in April 2021."
The Impact of COVID-19
Though the national health crisis led to a slowdown in seafood sales in the spring, business picked up over the summer, according to Jeff Harrison, president of the Talbot Watermen's Association. Higher-than-average prices this season have helped power the industry through the early challenges.
"This year has been busy," Harrison notes. "We ended up having a decent crab season, and we hope we sell a lot of oysters this winter."