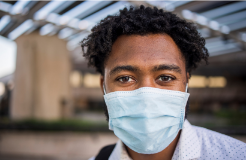 'Tis the season to visit with family and friends. But with COVID-19 cases on the rise, public health officials are asking the public to use restraint when it comes to holiday get-togethers and travel. A little delayed gratification now will help flatten the curve, they say. It's simply safer to stay home this year.
"A friend reminded me about the marshmallow test," says Dr. Fredia Wadley, Talbot County Health Officer. "It's a test done with preschoolers to see if they can exhibit restraint when offered a marshmallow. The kids can have one marshmallow now, or, if they wait for a period of time, they can have two later."
Contact tracing points to indoor dining at restaurants, family get-togethers, and social gatherings as the primary causes of the spike in cases both locally and nationally. Dr. Wadley and other health officials are asking the public to hold out for two marshmallows by waiting until COVID-19 is under control before engaging in large gatherings.
"Group size is really an indicator of the possibility of infection," says Dr. Wadley.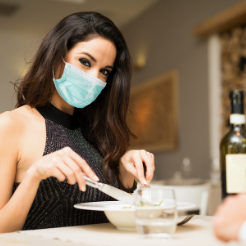 Small is Beautiful
Wadley advocates limiting get-togethers to two to four people, and gathering only with those you trust. Insist on masks when not eating or drinking and allow for at least six feet of distance between guests. Encourage frequent handwashing, and gather outside if weather permits.
And as Scroogey as it sounds, you should also avoid singing and shouting. "Water droplets go much further when you are yelling," Dr. Wadley notes.
Dinners served buffet-style are a big no-no this year too. It's difficult to maintain social distancing and avoid touching shared surfaces such as serving utensils, which increases the chance of spreading the virus.
Make It Virtual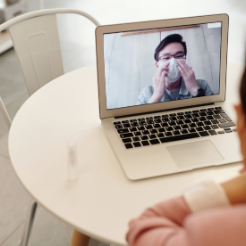 Visiting with grandparents or people with compromised immune systems is also worrisome according to Dr. Wadley. "Use tools like Zoom and FaceTime to touch base without putting people at risk," she advises.
It's also risky traveling to other states with high rates of infection. For those who must travel during the pandemic, the CDC has also issued guidelines to help make travel safer. https://www.cdc.gov/coronavirus/2019-ncov/travelers/travel-during-covid19.html
Dr. Wadley is encouraged by reports that a vaccine to combat COVID-19 may be ready by January, but cautions that it may be months before enough people can be vaccinated to slow the spread and achieve a level of general immunity. That's why it's so important that we use caution during the holiday season. A spike in cases could overwhelm the healthcare system.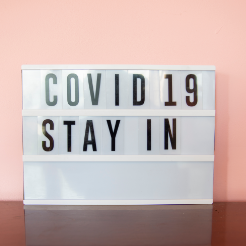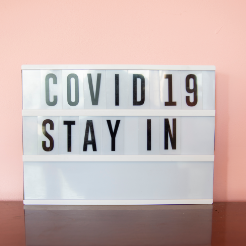 "It's not just about bed space," explained Wadley. "We need trained professionals and the right equipment. If we don't take this seriously, we may not have enough trained staff available to handle the number of cases we see."
For more information about holiday gatherings, visit the Centers for Disease Control and Prevention. https://www.cdc.gov/coronavirus/2019-ncov/daily-life-coping/holidays.html