Connie Reimers-Hild, PhD, CPC
Founder and Chief Futurist at Wild Innovation
At Talbot County Economic Development and Tourism, we believe that the outlook for Talbot County's future is bright indeed. So when we set about trying to find a speaker for our annual Business Appreciation Summit, we looked for someone who both believes in rural places like ours and who could provide a research-based view of the factors impacting our growth.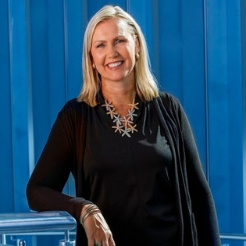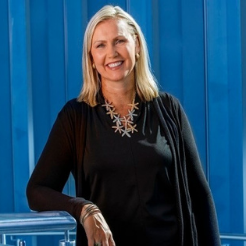 Enter Dr. Connie Reimer-Hild, a certified futurist and professional coach from rural Nebraska. We liked Dr. Connie immediately. But more than that, we looked at her body of work and felt that she would be the right person to share insights that would benefit our political and business leaders as we march into the '20s and beyond.
Dr. Connie would have been our speaker at the Business Appreciation Summit in 2020, but she generously agreed to reschedule for 2021 because of the pandemic. Interestingly, the factors she would have discussed in 2020 have been magnified by the COVID-19 public health crisis.
 You have quite the resume. Tell us about you.
My hometown is West Point, Nebraska. The population is just under 3,000 strong and is one of the largest communities in the area. I am the second oldest of six children, and my first job was bean walking — a job that requires you to walk through endless acres of beans and cut out weeds with a machete or hoe.
My second job was the newspaper route on Main Street. Both of those jobs started when I was about nine-years-old. We lived in the apartment above my parents' TV and appliance store until child No. 4 was born, then we moved to a house. My parents taught us how to work hard and how to fix things — two skills that I have used more than any other!
Most of my family members, including my dad, worked in the local meatpacking plant. My parents suggested I do the same to save money for college. I worked as a meat cutter at the plant to save money, but was very focused on going to college and getting a good job. I was a first-generation college student who paid my own way. Sometimes I was a full-time student, and sometimes I was a part-time student. I was committed to graduating.
I landed a job in the Department of Entomology at the University of Nebraska-Lincoln while working on my undergraduate degree in natural resources. Dr. Foster became an invaluable mentor and invited me to become part of this graduate program. He provided me with a full-time assistantship, and I helped lead his field testing operations. I had no idea that you could get paid to go to college before I met him!
After completing my master's degree, I worked full-time as the director of distance learning and innovation for the Department of Entomology while I completed my doctoral program in human sciences and leadership studies. I also got married while in graduate school but waited to have kids until I was done with my doctorate. I am an older mom — and also a grateful one!  There was a time when I thought I would not have kids and focus on my career. Thankfully, I made a different decision.
My career at the University of
Nebraska was mostly amazing. I worked my way up from staff and faculty positions to the executive ranks. I was selected to serve as the Executive (Interim) Director at the Rural Futures Institute, which was one of four major institutes founded to help solve grand challenges. My strategic foresight and leadership coaching firm, Wild Innovation, was established in 2005. I had also been nurturing my side hustle during my time at the university — while raising a family. I loved working with business leaders and had the opportunity to help people doing amazing things.
There came a time when political and cultural challenges made me question my career. I could no longer see my future at the university, so I resigned and decided to make Wild Innovation a full-time venture.
What is a rural futurist and how did you become one?
I always had this feeling when trying to explain things that people could not understand what I was saying. Then, I took the CliftonStrengths assessment by Gallup and found out that my top two themes are Futuristic and Ideation. The assessment helped me understand why I could easily see future possibilities while also connecting obscure ideas.
Strengths need to be developed, so I started researching, writing about, and practicing strategic foresight and futuring. I presented my work at the World Future Society in 2009 and felt an instant connection with other futurists.
I completed the University of Houston's Strategic Foresight Certification program and combined that knowledge with my Certified Professional Coaching designation.  I then became a Gallup-Certified Strengths Coach to help individuals and businesses better understand and build on their unique strengths while working towards their vision for a better, more purposeful future. It was a "happy accident" and slow process that continues to evolve with my ability to learn with and from others.
You live in rural Nebraska. How is the place you reside similar to Talbot County? How is it different?
I live in the Beaver Lake area of Plattsmouth, NE.  It is one of very few lake communities in Nebraska. It is also feeling the pressure of Omaha's continued growth, which quickly became more apparent during the COVID-19 pandemic. We are seeing this type of growth pattern in micropolitan areas across the country.
Both Talbot County and Cass County — where I am located — will see higher rates of growth well into the future. This is one reason both places need to create the vision for the future that they want. There are multiple future scenarios, so it will be important for leaders in both counties to purposefully choose and plan for their desired future.
Both areas are located near larger metropolitan areas and have natural resources that people crave. For example, water has an energy that people naturally connect with — water naturally helps most people relax and enjoy life more. Water, and other natural resources, are strengths for rural communities.
The differences are in sheer size and history. Cass County is home to 45.3 people per square mile and has approximately 557 square miles. Talbot County has 140.7 people per square mile and is a little more than 268 square miles according to the last estimates of the United States Census Bureau. Nebraska is also young when compared to Maryland, a state that's rich history began in 1788. Nebraska became a state in 1867.
Connectivity in our county is still a challenge. If you live outside of town, connections still tend to be very slow. Talbot County is making great strides in this area, which strongly positions it for the Fourth Industrial Economy.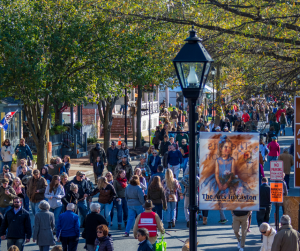 Our Business Appreciation Summit focuses on the positive impact of the business community. What makes the future bright for places like Talbot County?
Places like Talbot County are leading the evolution of rural places. They have strong leaders who want businesses, people, communities, and natural resources to prosper now and into the future. Talbot County is one of the few places on the planet that can bring these important areas together to create a model for sustainable and inclusive innovation. Talbot County's strengths have become superpowers.
What would you say is the number one challenge in the coming decade for people in rural places?
The decrease of political capital will continue to be a challenge for rural places. Places like Talbot County will grow. However, many remote, rural areas will continue to be challenged with their population declines unless we see another monumental wildcard event like COVID-19.  The lack of basic amenities and resources widening, as well as the widening division of socioeconomic status in these areas are problematic. The rural population is much smaller than the urban population in the United States. This presents a challenge when it comes to policies based on population alone and is a national and global challenge that must be addressed.
Do you have a final piece of advice for leaders who want to make a difference in Talbot County?
Yes! Create a purposeful vision for Talbot County, launch a plan to make it happen and measure meaningful, Exponential Impacts.
While I was at the Rural Futures Institute, we launched a podcast. The Rural Futures podcast focused on creating a collective vision and voice for rural people and places while intersecting leadership, technology, and what it means to be human in an era of exponential change. As host of the podcast, I had the opportunity to interview entrepreneurs, community leaders, and tech executives who were all working towards a more prosperous future for rural areas. Why?  Because rural and urban areas are intertwined. Food, fiber, oil, water and everyday items people need for living come from rural areas. Those items are largely sold to and consumed by people in urban areas. While rural areas may not have the population base of more urban places, they do support them with what I call, Exponential Impacts.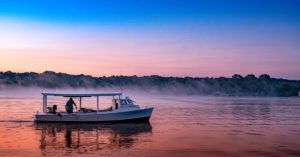 Take for example aquaculture in Maryland. Aquaculture's market value in Maryland was around $18.2 million according to the 2017 Census of Agriculture. Next, we need to determine the Exponential Impact of this industry both in and beyond Maryland. How many restaurants and businesses rely on Maryland's aquaculture exports? What is the economic benefit to these businesses, their employees, and the states that are involved with this important, aquaculture ecosystem?  What is the nutritional benefit to the consumer?  How does a healthy aquatic ecosystem benefit communities in Talbot County and beyond?  These are just a few questions that can be asked, answered, and reported to demonstrate the value of rural areas to the entire country and beyond.
Rural areas need to join forces to collectively measure and communicate their Exponential Impact with leaders who are solely focused on population. Rural areas are very misunderstood by people who have never truly experienced them. There is a lot of value in being small. We just need to communicate this fact in ways that decision-makers understand — and that means dollars and cents.