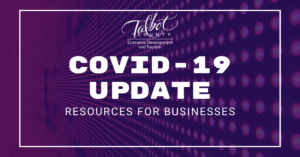 Don't miss today's Private Sector Call featuring Jeannie Haddaway-Riccio, Secretary, Maryland Department of Natural Resources, along with:
Clay Stamp, Emergency Services Director
Dr. Fredia Wadley, Health Department
Sheriff Joe Gamble and EPD Sgt. Eric Kellner
Chef Jordan Lloyd
Chris Agharabi, Ava's and Theo's
Financial assistance is available for watermen.  Click here for more information.
The Maryland Small Business COVID-19 Emergency Relief Loan and Grant Fund are no longer available. Applications that were submitted will be processed. No new applications will be accepted.
SBA Conference Call – Daily updates (M-F) provided and you can ask questions.
3:00pm, Call 202-765-1264, Conf Call ID# 827-299-626
5:30pm, Call 202-765-1264, Conf Call ID# 310-688-488
 EIDL Application Help – Daily 10:30am and 8:00pm. On the call, an SBA agent will walk you through how to fill out the EIDL form. Have all your necessary documents ready. Zoom Meeting # 6794772946