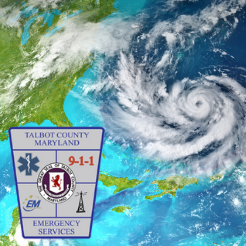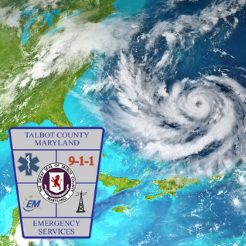 Talbot County felt the effects of Tropical Storm Isaias and Hurricane Laura recently, both of which served as good reminders of what can happen during hurricane season.
With National Preparedness Month on tap in September, this is the perfect time to craft an action plan for your family and your business. Forecasters are calling for an especially active hurricane season in 2020. Spending some time to plan now could pay big dividends if a hurricane takes aim at the Mid-Atlantic.
"Talbot County and the Delmarva Peninsula are perfectly positioned to get hit by multiple hurricanes this year," says Director of Emergency Services Clay Stamp. "I encourage all residents and businesses to visit our website and make preparations for an active season."
Though tropical storms and hurricanes can affect Talbot County in numerous ways, from strong thunderstorms and dangerous winds to storm surge and flooding, the greatest threats are storm surges and flooding.
Storm surge is a large dome of water, often 50 to 100 miles wide that sweeps across the coastline near where a hurricane makes landfall. The surge of high water, topped by waves can be devastating. The stronger the hurricane and the shallower the offshore water, the higher the surge will be.
The storm surge during Hurricane Isabel in 2003 damaged hundreds of buildings on Maryland's Eastern Shore. Talbot County's storm surge map helps residents and business owners find out surge values for their area.
Another concern for Talbot County residents and businesses is storm tide. Storm tide is the combination of storm surge and normal astronomical tides. Hurricane Hugo in 1989 generated a 20-foot storm tide in South Carolina, damaging businesses and homes.
"Flooding from storms is common in Talbot County," says Stamp. "If you encounter flooded roadways, turn around! Don't drive through high water."
Preparedness doesn't end at home, business owners should take steps to protect property and employees:
Develop a plan for whether or not you will open or close early.
Cover exposed windows.
Sandbag doors in flood-prone areas.
Secure electronics and relocate valuables.
Protect important documents.
For more information about preparing for hurricanes and other disasters, visit the Talbot County Emergency Services website. Helpful resources include a tip sheet on hurricanes and storm surge maps for the county.
The Federal Emergency Management Agency has developed a free toolkit for businesses and a booklet called "Every Business Should Have a Plan" to help businesses prepare for hurricanes.