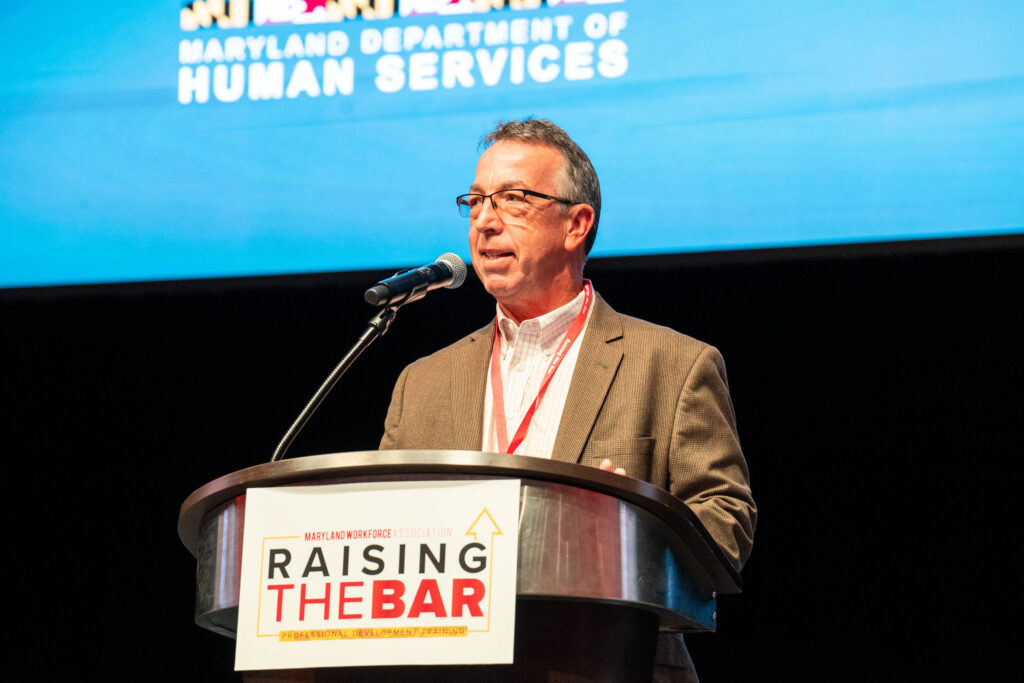 The coronavirus pandemic sparked a workforce crisis that has changed the way Americans view their work. Some employees retired, others shifted to part-time work, and others simply dropped out of the workforce altogether. What's more, this shift in the labor market affects every business, large or small, public or private. In the December 2022 Eastern Shore Business Sentiment Survey, business leaders ranked workforce challenges as the No. 1 barrier to starting or expanding a business.
A number of local agencies are dedicated to helping address workforce issues in the region, including the Upper Shore Workforce Investment Board, better known as the USWIB. Dan Schneckenburger joined the organization in March 2022, following the retirement of long-time executive director Dan McDermott.
Schneckenburger brings a wealth of experience in workforce development in both Florida and Maryland. He also served 10 years on the board of directors of the Susquehanna Workforce Network, a WIB that serves Harford and Cecil counties, and is a former elected official from Cecil County. We asked him to help us understand his role in helping develop the workforce Eastern Shore employers need now.
TW: Congratulations on your (somewhat) new job, Dan! What is the mission of Upper Shore Workforce Investment Board?
DS: The Upper Shore Workforce Investment Board serves a five-county region on Maryland's Eastern Shore, including Caroline, Dorchester, Kent, Queen Anne's, and Talbot counties.

Our mission is to provide career and training services that will lead to employment that is relevant and supportive to the local five-county economy.  We are committed to assisting employers by offering in-demand training options designed to qualify individuals for careers in the region.

The USWIB is part of the National American Job Center network, which is composed of high-performing, results-oriented workforce organizations that invest in communites with employment and training strategies, providing resources to employers and job seekers, and sustaining and growing the local economy.

The organizations provides the highest quality workforce services to the five-county UPPER SHORE area, allowing opportunity for advancement to workers of all ages and skill levels, and meeting the current and future needs of local employers.
TW: How are you funded?
DS: Our primary funding source comes from the federal Department of Labor (WIOA), and has been supplemented recently by federal American Rescue Plan funding (ARPA) that came to Maryland.  We do not receive any funding from any of the five county governments we serve.
TW: You are not new to the Eastern Shore, but you are new to this position. What do you see as the greatest opportunities for workforce development in the region you serve?
DS: The Eastern Shore economy is still predominately hospitality/tourism, but healthcare workforce needs are now a major focus.  In addition, manufacturing growth in the five county Upper Shore region is being currently addressed with a Manufacturing Consortium hosted by the USWIB on April 13, 2023.
TW: Our businesses tell us that workforce issues are among their greatest challenges. What is causing the shortage of workers in this region?
DS: It is a combination of factors.  Older youth (ages 18-24) have an unemployment rate of 16% when the overall rate is around 3.8-4.0%.  We also know many older workers retired during the COVID 19 pandemic, and these positions may have been filled by incumbent workers, but the entry level positions remain open.  Loss of childcare options and virtual schooling had some pre-COVID workers drop from the workforce, and have not returned.
TW: How do businesses better take advantage of the services you offer?
DS: I will be one year into the executive director role on March 1, 2023.  The USWIB had very little interaction with the business community, but we have hired a Business Services Manager to begin engagement on understanding workforce needs and skills gaps in employers.

 We can assist employers with filling needs by hosting job fairs (we have one coming up on May 11), providing labor market information, exploring and supporting registered apprenticeship programs for a business, and introducing businesses to students taking workforce training in areas that an employer needs.
---
More about Daniel Schneckenburger
Dan Schneckenburger is the new executive director of the USWIB. Dan has a B.S. from the University of Delaware and is a former elected official (Vice President, Cecil County Council, MD).
Dan was formerly with Career Source Tampa Bay where he realigned the business services group to serve six industry sectors, including manufacturing. He built alliances with statewide manufacturing groups and workforce consortiums, which brought employers and educators together to discuss challenges, innovation, and partnering opportunities. He also worked to provide short-term trainings to individuals looking to change careers during the Covid-19 pandemic.
Dan served ten years on the board of directors for the Susquehanna Workforce Network, a WIB that serves Harford and Cecil counties.
---
Never Miss Talbot County Business News: Subscribe to Talbot County Economic Development and Tourism's Talbot Works newsletter here.