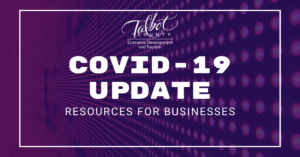 Thanks to the RELIEF Act of 2021, a number of new grant programs funded by the State of Maryland are being rolled out this spring, including several that are being administered by the Talbot County Department of Economic Development and Tourism.
Check out these new programs to see if you fit in the eligible industry categories. Funding is limited, so be mindful of the deadlines if you qualify.
Programs Administered By Commerce
Small Business COVID RELIEF Grant Program
This grant is designed for businesses with 1 to 20 employees that primarily offer non-tangible services that are not subject to Maryland sales and use taxes. The Maryland Department of Commerce began taking applications on March 30 and will stop on April 6, so act quickly. Applications will be considered on a first-come, first-served basis.
Small, Minority and Women-Owned Business Administration COVID RELIEF Program
The VLT Fund traditionally uses proceeds from video lottery terminals (slots) to assist small, minority, and women-owned businesses located in targeted areas around Maryland's six casinos. The $10 million in Relief Act funds will be administered by the eight fund managers who operate this program on behalf of the Department of Commerce. Talbot County businesses will apply for funding through Maryland Capital Enterprises [https://www.marylandcapital.org/] in Salisbury.
Programs Administered by Talbot County
Restaurant and Caterers COVID RELIEF Grant Program
To support Maryland restaurants facing continued financial impacts from the novel coronavirus, Talbot County has received an additional $135,635. Applications will be available at TalbotWorks.org when application requirements are finalized.
Lodging and Accommodations COVID RELIEF Grant Program
Hotel, lodging, and accommodation businesses are among those most impacted by the COVID-19 pandemic. To help those facing continued financial impacts, Talbot County has received an additional $65,652. The state has loosened some of the requirements for this grant, which will allow more businesses to apply. Watch for more details as they become available at TalbotWorks.org.
Online Sales and Telework Assistance COVID RELIEF Grant Program
Though Talbot County's allotment for this grant program is just $3,082, these funds will be used to support small businesses seeking to expand online sales and teleworking capabilities for their employees. Details will be posted on TalbotWorks.org when grant guidelines are finalized.
MARYLAND RECOVERY NOW Nonprofit Grant
The Maryland Department of Housing and Community Development (DHCD) received $20 million in Maryland Recovery Now Funds via SB496 that will be distributed to local governments to make grant awards to local nonprofits. The program will give priority to nonprofit organizations that have not already received an award from the NORI program DHCD administered in 2020. Talbot County will receive $123,000 to distribute locally.