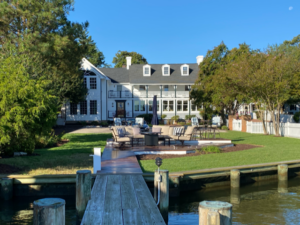 For Debra Alms, owner of the Hambleton Inn in St. Michaels, operating a bed & breakfast inn is . . . easy. Managing a construction project on an 1840s home during the worst of the pandemic was . . . not so easy.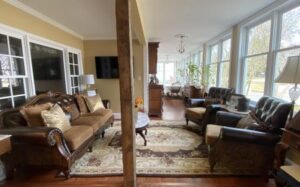 "Running the inn is simply an extension of me," she says. "Being a wife and mother of four taught me what I needed to know to run this business. I love to entertain guests."
Alms and her partner Richard Beavers bought the former shipbuilder's home in October 2019 and honored the remaining reservations before closing for renovations. When COVID-19 made its appearance in early 2020, the renovation project became especially difficult. The cost of building materials soared. Waiting times for both products and service providers seemed interminable. The cost of the total project was over budget, exceeding estimates by more than 20 percent.
"We were extremely cautious about not spreading the virus," Alms says. "Most of the work was on the outside of the building in the beginning. The real silver lining was that we were able to give people work who wouldn't otherwise have had jobs during the early days of the pandemic."
The lovingly restored Hambleton Inn finally opened to visitors on September 1. The renovation process uncovered old beams carved by shipbuilders and revealed numerous artifacts, some hidden in the walls, including old elixir druggist bottles, Austrian porcelain, and crockery dating to the 1800s. The new owners rebuilt bathrooms and replaced wiring and HVAC systems to bring the building up to modern comfort standards.
The team's efforts were handsomely rewarded when Hambleton Inn B&B was recently named to Select Registry's Distinguished Inns of North America (https://selectregistry.com/). This adds the bed and breakfast to a distinguished list of boutique properties that adhere to the brand's uncompromising standards for luxury and customer service.
"The applications process was intense," Alms admits, "But we are very excited! We are one of the few properties in the region listed by Select Registry."
Alms also says she goes the extra mile to protect the health and safety of her guests and her employees. The inn added multiple outdoor seating areas and requires separate seating times for guests in different parties. Masks are required for staff and guests—no exceptions.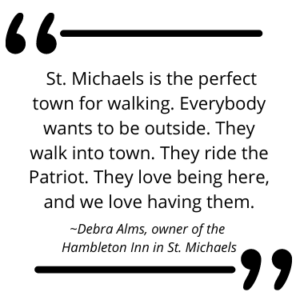 "It takes a lot more effort to prepare for social distancing, and it is more time consuming," she says, "But people love St. Michaels, and they are coming from Delaware, Virginia, Pennsylvania, D.C. About 95 percent of our people have never been here before. If it's under six hours away, they are coming."
And why not? "St. Michaels is the perfect town for walking," Alms says. "Everybody wants to be outside. They walk into town. They ride the Patriot. They love being here, and we love having them."
For more information about the Hambleton Inn B&B, visit hambletoninnbb.com.
If you know a business that opened in 2020 or 2021, drop us a line at ecodev@talbotcountymd.gov.