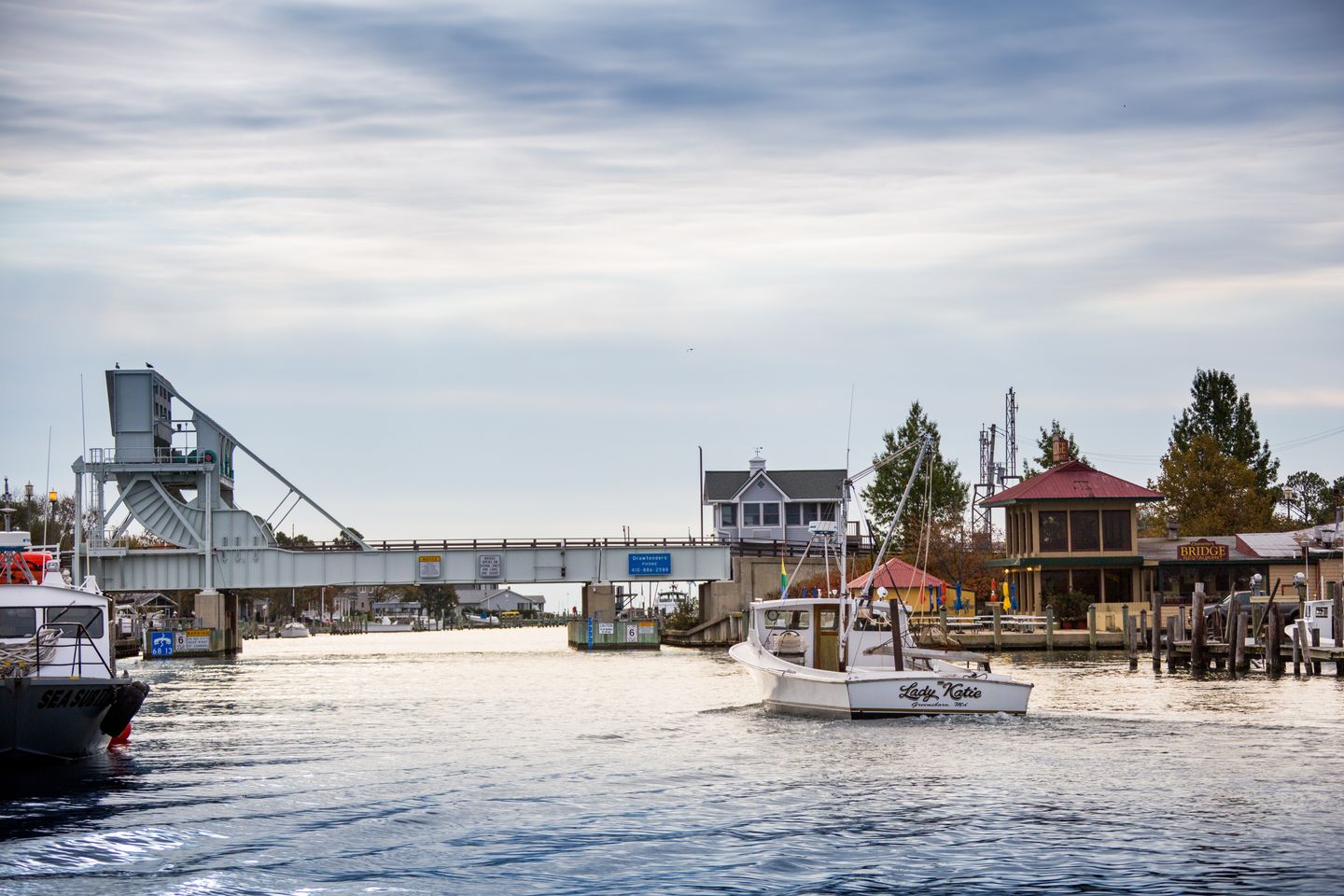 The long anticipated dredging of the Knapps Narrows Federal Navigation Channel is finally underway.
Expected to be completed on May 1, 2018, the project is being overseen by the U.S. Army Corps of Engineers (USACE), Baltimore District in coordination with Maryland Department of the Environment and Talbot County Department of Public Works. The Corp received bids for maintenance dredging in January 2018 and selected Evansville, Indiana based Southwind Construction as the low bidder at $1.4 million. Previous dredging of Knapps Narrows was last completed in 2006. Since then, silting has dramatically reduced the depth of the channel to a depth of 1.5 to 2.5 feet in some places.
In a USACE report, the scope of work consists of hydraulically dredging and pumping material from Knapps Narrows channel to a disposal site. The entire 1.7 mile long channel will be dredged to an authorized 9-foot mean lower low water (MLLW), plus 2 feet of allowable over-depth. Nearly 100,000 cubic yards of sand, silt, and mud will be removed.
Securing funding for dredging Knapps Narrows was a multi-agency effort that included local advocacy from the Talbot County Council, Maryland District 37 legislators, Congressman Andy Harris, and MD U.S. Senators Ben Cardin and Chris Van Vollen. Senator Cardin wrote to the Senate Appropriations Committee Leadership and Senator Van Hollen wrote the U.S. Army Corp of Engineers (USACE) to express their support for this project.
In a press release issued by Senator Cardin's office, Cardin states, "Knapps Narrows Channel allows efficient movement among the mouths of Harris Creek, the Choptank River and Eastern Bay, making it important to a wide variety of commercial and recreational users. As such, we are wise to invest in its integrity."
During a listening session on Tilghman Island held by the Department of Economic Development and Tourism on May 8, 2017, residents listed the silting of Knapps Narrows as a major concern. "We are very excited about the dredging of Knapps Narrows," says Economic Development and Tourism Director Cassandra Vanhooser. "Dredging the Narrows, coupled with our new Enterprise Zone on Tilghman, the work of revitalizing Tilghman Island can truly begin."