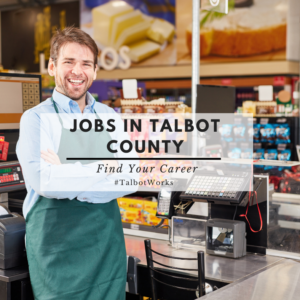 Employers in Talbot County are hiring! 
Aphena Pharma Solutions in Easton has many openings to fill, including:
Maintenance Technician
Production Supervisor 2nd Shift
Senior Purchasing Agent
Warehouse Clerk
Warehouse Manager
Caloris Engineering, LLC, in Easton is hiring a Project Engineer and Project Manager.
Chesapeake Bay Maritime Museum in St. Michaels has full- and part-time openings for:
Custodian
Building Maintenance Mechanic
Youth Programs Coordinator
Events and Group Services Coordinator
Festival Coordinator
Registrar
Compass Group in Easton is hiring:
Director, Dining Services
Dietitian
Home Instead in Easton is looking for a Recruitment and Engagement Coordinator, caregivers and home health aides.
iFrog in Easton is looking for:
Digital Media Analyst
IT Specialist
Director of Partner Success
SEO Strategist
Account Manager
Inn At Perry Cabin in St. Michaels has openings for:
Spa Supervisor
Resort Manager
PM Housekeeping Supervisor
Maintenance Engineer
Laundry Attendant
Server Assistant
Paris Foods Corporation in Trappe has the following openings:
Accounting Analyst
Quality Assurance Tech
Freezer Associate
Production Associate
Sanitation Associate
Senior Maintenance Technician 
Qlarant in Easton is searching for:
Call Center Specialist I – Medicare Parts C & D
Proposal Management Director
Healthcare Data Analyst (Remote)
Healthcare Fraud Investigation Major Case Coordinator (Remote)
Medical Review RN – Medicare and Medicaid (Remote)
Medical Director – PRN – Medicare Part D (Remote)
QI Coordinator 1
Shore United Bank has openings in Easton for:
Personal Banker (Floating)
Branch Support Specialist
Loan Operations Representative
Branch Banking Representative – Spanish Bilingual Preferred
Soliant has jobs in Easton:
School Psychologist
Speech Pathologis
ER Rn – Travel Assignment
Occupational Therapist
Registered Respiratory Therapist
Talbot County Government has openings for:
Building and Codes Compliance Officer
Correctional Officer
Division Chief of Emergency Medical Services
Lead Collection/Distribution System Operator
Senior Engineer
Treatment Plant Operator I
Talbot County Public Schools is looking for:
Administrative Assistant Easton High School
Computer Technician
Speech Therapist
School Safety Officer
Head Custodian
Coaches
Home/Hospital Teacher
School Social Worker
Instructional Assistant
Secretary
School Bus Assistant
UM Shore Regional Health in Easton is looking for a variety of professionals, including:
Radiographer II
Mental Health Therapist
Environmental Services Technician
Surgical Technology
Nursing Tech
Sonographer
Front Office Coordinators (various departments)
Patient Sitter
For more listings, check out:
College Central Network
Chesapeake College uses College Central Network as its official job search and job posting service. The exclusive site can be accessed 24/7 at www.collegecentral.com/chesapeake.
Job Seekers, quickly apply to jobs and Internship opportunities posted exclusively for you, and search other opportunities via Jobs Central® and Intern Central®, national job boards.
Employers post unlimited jobs for free to talented student, alumni and community members
Android & iPhone smartphone app is available for download at com/app
American Jobs Centers Network
The American Jobs Centers Network ((https://www.dllr.state.md.us/county/uppershore/) is a partnership between local workforce development agencies including the Maryland Department of Labor – Division of Workforce Development, Upper Shore Workforce Development Board, Department of Rehabilitation Services, and Disability Navigator.
The Talbot County American Job Center is located at 301 Bay Street, Suite 301 | Easton, MD 21601 (behind Acme). The phone number is 410-822-3030.
About Talbot County Department of Economic Development and Tourism
The mission of the department is to enhance and promote a business-friendly environment for current and prospective enterprises and to advocate for policies that support and strengthen the economic vitality of Talbot County. The vision the department sees for Talbot County is simple: Strong Communities. Empowered Businesses. Innovative Solutions.
If you own or operate a business in Talbot County, or want to start one, contact the Department of Economic Development and Tourism at 410-770-8000.