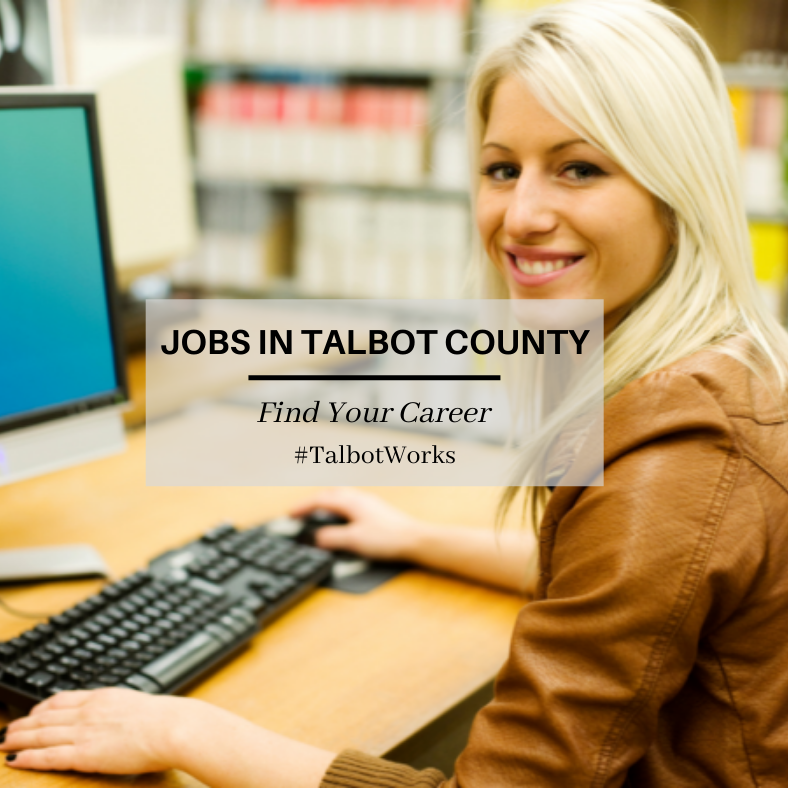 A wide variety of Talbot County businesses currently have positions to fill. Check out our job listings and find your next job in Talbot County.
Acts/Bayleigh Chase in Easton is hiring:
Maintenance Technician
Home Services GNA ($2,000 signing bonus)
RN/LPN – PRN
Housekeeper
Food Services Supervisor
Inventory Clerk
Home Health Companion
Aphena Pharma Solutions in Easton has many openings to fill, including:
Packer
Machine Operator
Lead Quality Technician
IT Support Specialist
Human Resources Assistant
Manufacturing Engineer
Jr. Purchasing Agent
Ava's in St. Michaels is looking for:
Beverage Manager
Servers
IT Specialist (remote)
Accounting Specialist (remote with flexibility)
Line Cook
Assistant FOH Manager
General Manager
Chesapeake Bay Maritime Museum in St. Michaels has full- and part-time openings for:
Shipwrights – Project Based
Grounds Maintenance Associate
Summer Camp Instructors
Choptank Transport in Easton is hiring:
Market Pricing Analyst
Account Coordinator
Full Stack Developer
Logistics Coordinator
Inside Sales Rep
Eurofins in Easton is looking for:
Associate Scientist, Ecotoxicology
Senior Scientist, Environmental Fate
Technician, Biodegradation
Technician, Plants & Insects
Systems Developer
Inn At Perry Cabin in St. Michaels has openings for:
Message Therapist
Bartender
Banquet Chef
Host
Esthetician
Waterfront Concierge
Qlarant in Easton is searching for:
Administrative Assistant/Operations Coordinator
Administrative Support – Medicare Fraud Specialist
Web Application Software Engineering Summer Intern
Talbot County Government has openings for:
Accountant I
Accounts Payable and Payroll Specialist
Machine Equipment Operator II & III
EMT/EVO
Senior Engineer
Wastewater Treatment Plant Operator
Talbot County Public Schools is looking for:
Maintenance Specialist
Database Admin Support
Physical Education Teacher
Reading Teacher
Principal
Certified Nursing Assistant Instructor
Automotive Tech Teacher
School Counselor
Talbot Hospice in Easton has the following openings:
CAN Hospice Aide for Home Care, Full Time ($2,000 Sign-On Bonus)
CAN Hospice Part Time Evening Shift EOW ($2.00 Shift Differential)
LPN Supervisor Full Time Night Shift Weekdays ($2,000 Sign-On Bonus)
RN Per Diem
Target in Easton is hiring:
Specialty Sales (Style, Beauty or Technology)
GM and Food
Guest Advocate
Seasonal General Merchandise
Target Security Specialist
UM Shore Regional Health in Easton is looking for a variety of professionals, including:
New Grad Registered Nurse
Medical Assistant Easton Urgent Care
CT Radiographer PD 2
CT Tech II
Nephrologist
Surgical Technologist I
SH Pharmacy Technician I
Front Office Coordinator/Urology
YMCA in Talbot County is hiring:
Soccer Referee (Peachblossom)
Personal Trainers
Child Watch Assistant (Peachblossom)
Stay and Play Staff (Perkins)
Lifeguards
Custodians
YMCA Summer Program Staff (Perkins)
For more listings, check out:
College Central Network
Chesapeake College uses College Central Network as its official job search and job posting service. The exclusive site can be accessed 24/7 at www.collegecentral.com/chesapeake.
Job Seekers, quickly apply to jobs and Internship opportunities posted exclusively for you, and search other opportunities via Jobs Central® and Intern Central®, national job boards.
Employers post unlimited jobs for free to talented student, alumni and community members
Android & iPhone smartphone app is available for download at collegecentral.com/app
American Jobs Centers Network
The American Jobs Centers Network (https://www.dllr.state.md.us/county/uppershore/) is a partnership between local workforce development agencies including the Maryland Department of Labor – Division of Workforce Development, Upper Shore Workforce Development Board, Department of Rehabilitation Services, and Disability Navigator.
The Talbot County American Jobs Center is located at 301 Bay Street, Suite 301 | Easton, MD 21601 (behind Acme). The phone number is 410-822-3030.
About Talbot County Department of Economic Development and Tourism
The mission of the department is to enhance and promote a business-friendly environment for current and prospective enterprises and to advocate for policies that support and strengthen the economic vitality of Talbot County. The vision the department sees for Talbot County is simple: Strong Communities. Empowered Businesses. Innovative Solutions.
If you own or operate a business in Talbot County, or want to start one, contact the Department of Economic Development and Tourism at 410-770-8000.