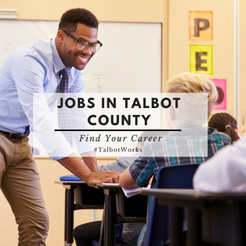 Employers are hiring in Talbot County. Check out these exciting jobs and consider your next career!
Acts/Bayleigh Chase in Easton is hiring:
Line Cook ($2,000 Sign-On Bonus)
Geriatric Nursing Assistant
RN or LN ($4,000 Sign-On Bonus)
Bus Driver
Server ($500 Sign-On Bonus)
Maintenance Technician
Home Health Companion
Hair Stylist
Aphena Pharma Solutions in Easton has many openings to fill, including:
Maintenance Technician
Production Supervisor
Senior Purchasing Agent
Machine Operator
Warehouse Clerk
Chesapeake Bay Maritime Museum in St. Michaels has full- and part-time openings for:
Building Maintenance Mechanic
Festival Coordinator
Compass Group has opening in Easton for:
Environmental Services Operations Manager
Dietitian ($5,000 Sign-On Bonus)
Easton Utilities in Easton is looking for:
Purchasing and Inventory Clerk II
Water and Wastewater Facilities Maintenance Technician
Water Distribution and Wastewater Collections Operator
Eurofins in Easton is looking for:
Animal Care Technician, Avian Laboratory
Associate Scientist, Aquatics
Business Development Manager, Crop Protection
Technical Scientific Writer, Analytical Chemistry
Senior Scientist, Analytical Chemistry
Quality Assurance Associate, AgroScience Laboratory
Goodwill in Easton is looking for:
Assistant Store Manager III http://ipc.us/t/91E389E0201348D8
Sales Associate (Part-Time) http://ipc.us/t/ABD9C163033C4C2D
ADC Attendant 3 http://ipc.us/t/CA5C4B06CB114220
Inn At Perry Cabin in St. Michaels has openings for:
Guest Service Agent
Restaurant Manager
Sous Chef
Spa Concierge
Sales Administrative Assistant
Maître d'
Housekeeper
Line Cook
Massage Therapist
Qlarant in Easton is searching for:
Administrative Assistant/Operations Coordinator
Fraud, Waste and Abuse Specialist
Data Analyst II
Quality Assurance Engineer
Medical Review RN (UPIC W) – Home Based
Pharmacist-Medicare Part D Subject Matter Expert – Remote
Project Manager
Talbot County Government has openings for:
Accountant I
Airport Operations and Maintenance Specialist
Correctional Officer
Machine Equipment Operator II
Paramedic
Repurposing Center Operator II
Senior Engineer
Treatment Plant Operator
Assistant Economic Development and Tourism Coordinator (Part-Time)
Various positions in the Department of Parks & Recreation
Talbot County Public Schools is looking for:
Sign Language Interpreter
Computer Technician
Billing Clerk, Medical Assistance
Maintenance Specialist
Teachers – ESOL, Math, Spanish, English, Early Childhood Education, and others
Coaches
School Safety Officer
Head Custodian
Grants Manager
Secretary
Custodians
Talbot Hospice in Easton has the following openings:
Patient Records Coordinator
CAN – Hospice (Part-Time)
RN Hospice On-Call After Hours FT Weekday ($7,500 Sign-On Bonus)
Cook for Guest Wing (Part-Time)
RN Per Diem (Eight Hour Shifts)
The Nature Conservancy in Easton is looking for:
Applied Agricultural Scientist
Agriculture Program Director
Coastal Adaptation Scientist
TNC/UMCES Regenerative Agriculture Fellow
Tidewater Inn in Easton has openings for:
Line Cook
Tidewater House Steward
Front Desk Agent
Banquet Captain
Housekeeping Attendant
UM Shore Regional Health in Easton is looking for a variety of professionals, including:
Clinical Nurse Coordinator (RN) – Surgical Services
MS Manager Financial
Manager, Foundation and Fund Development
OB/GYN Physician
Imaging Assistant
SH Food Service Associate
Social Worker
Medical Assistant I
Registered Nurse – Pediatrics
Occupational Therapist I
University of Maryland Shore Regional Health will hold a job fair on Wednesday, March 9, from 12 p.m. to 6 p.m. at the University of Maryland Shore Medical Center, 219 S. Washington St., Easton, MD. Register at https://www.signupgenius.com/go/10c0e4dada82ca6f9cf8-umshore
Willow Construction in Easton has openings for:
Business Development Manager
Project Manager
Superintendent
YMCA in Talbot County is hiring:
Soccer Referee (Peachblossom)
Personal Trainer
Wellness Assistant (Peachblossom)
Stay and Play Staff (Perkins)
Lifeguards
Day Camp Counselor (Peachblossom)
YMCA Summer Program Staff (Perkins)
Swim Instructors
For more listings, check out:
College Central Network
Chesapeake College uses College Central Network as its official job search and job posting service. The exclusive site can be accessed 24/7 at www.collegecentral.com/chesapeake.
Job Seekers, quickly apply to jobs and Internship opportunities posted exclusively for you, and search other opportunities via Jobs Central® and Intern Central®, national job boards.
Employers post unlimited jobs for free to talented student, alumni and community members
Android & iPhone smartphone app is available for download at collegecentral.com/app
American Jobs Centers Network
The American Jobs Centers Network ((https://www.dllr.state.md.us/county/uppershore/) is a partnership between local workforce development agencies including the Maryland Department of Labor – Division of Workforce Development, Upper Shore Workforce Development Board, Department of Rehabilitation Services, and Disability Navigator.
The Talbot County American Job Center is located at 301 Bay Street, Suite 301 | Easton, MD 21601 (behind Acme). The phone number is 410-822-3030.
About Talbot County Department of Economic Development and Tourism
The mission of the department is to enhance and promote a business-friendly environment for current and prospective enterprises and to advocate for policies that support and strengthen the economic vitality of Talbot County. The vision the department sees for Talbot County is simple: Strong Communities. Empowered Businesses. Innovative Solutions.
If you own or operate a business in Talbot County, or want to start one, contact the Department of Economic Development and Tourism at 410-770-8000.