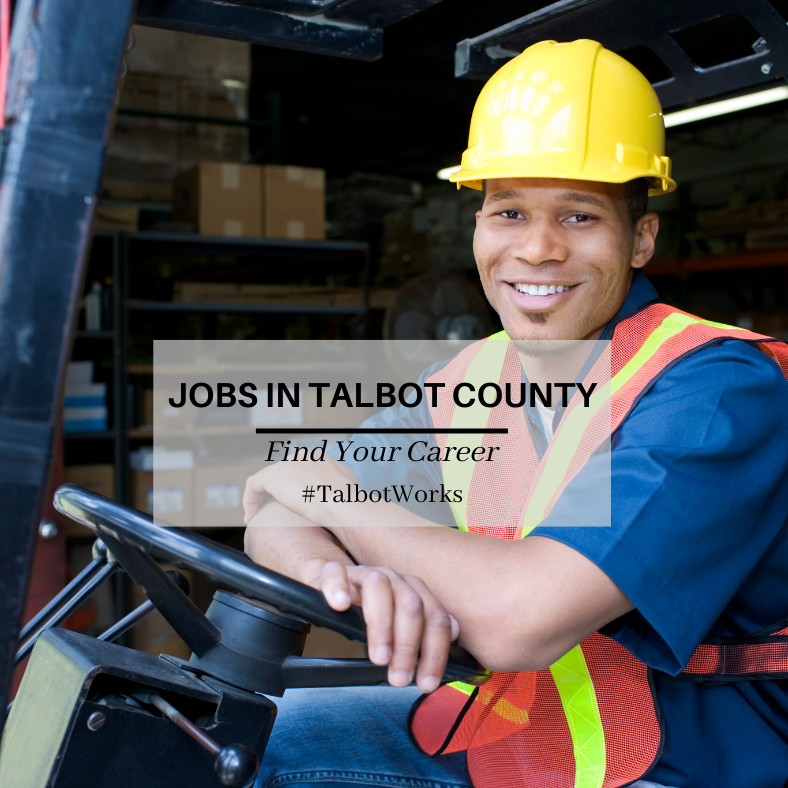 Ready for a new job in Talbot County? Check out our listings!
Acts/Bayleigh Chase in Easton is hiring:
Home Health Registered Nurse ($4,000 Sign-On Bonus)
Maintenance Technician
Line Cook ($2,000 Sign-On Bonus)
Housekeeper
Dining Room Supervisor
Aphena Pharma Solutions in Easton has many openings to fill, including:
Industrial Electrician
Custodial Technician
Project Manager
Machine Operator
Warehouse Clerks I and II
Master Scheduler
IT Support Specialist
Axis GeoAviation in Easton is hiring a Sensor Operator and Pilot.
Choptank Transport in Easton is hiring:
Market Pricing Analyst
Inside Sales Rep
Carrier Sales Representative
Eurofins Agroscience Services in Easton is looking for:
Assistant Scientist I, Aquatics Ecotoxicology
QC Coordinator
Avian Technician
IT Support Technician
Administrative Support Clerk
Golden Wood in Oxford is looking for people to care for pets. Interested individuals should email GWKManager@gmail.com
Inn at Perry Cabin in St. Michaels has openings for:
Junior Sous Chef
Director of Spa
Front of House Manager
HVAC Technician
Plumber
Peak Healthcare at the Pines in Easton has openings for:
Director of Admissions
Staff Licenses Practical Nurse
Staff Registered Nurse
Cook
Dietary Aide
Housekeeping
Certified Medication Aide
Bilingual Case Manager
Qlarant in Easton is searching for:
Administrative Assistant/Operations Coordinator
Administrative Support – Medicare Fraud Specialist
Web Application Software Engineering Summer Intern
Shore United Bank in Easton has the following openings:
Senior Branch Banking Specialist
Branch Banking Representative
Appraisal Coordination Specialist
Senior Credit Analysts
Talbot County Department of Social Services in Easton is looking for:
Computer Network Specialist II (LAN Administrator)
Human Resources Officer III
Part-Time Office Services Clerk (Bilingual)
Social Worker II (LMSW) – Child Protective Services
Social Worker II (LMSW) — Family Preservation
Social Worker II (LMSW) – Foster Care
For more information and application instructions, contact Meloney Morris, HR Specialist, at 410-770-8857 or email Meloney.Morris@maryland.gov.
Talbot County Government has openings for:
Collection System Operator I
Communications Specialist I
Court Recorder
EMT/EVO
Machine Equipment Operators II and III
Paramedic
Planning Officer
Senior Engineer
Talbot County Public Schools is looking for:
School Counselor
Admin Assistant
Interpreter
School Bus Driver
Teachers – Music, Reading, Art, Special Ed, Math, Computer Science, etc.
Head Custodian
The Tilghman Island Inn, on Tilghman Island is hiring servers, managers, and line cooks.
UM Shore Regional Health in Easton is looking for a variety of professionals, including:
Registered Nurse Emergency Department
Social Worker
Care Coordinator
Mental Health Therapist
Nurse Practitioner or Physician Assistant
SH Staff Pharmacist
SH Food Service Associate
Wylder Hotel on Tilghman Island is hiring:
Line Cook
Front Desk Agent
Housekeeper
Server
Bartender
Catering Crew
For more listings, check out:
College Central Network
Chesapeake College uses College Central Network as its official job search and job posting service. The exclusive site can be accessed 24/7 at www.collegecentral.com/chesapeake.
Job Seekers, quickly apply to jobs and Internship opportunities posted exclusively for you, and search other opportunities via Jobs Central® and Intern Central®, national job boards.
Employers post unlimited jobs for free to talented student, alumni and community members
Android & iPhone smartphone app is available for download at collegecentral.com/app
American Jobs Centers Network
The American Jobs Centers Network ((https://www.dllr.state.md.us/county/uppershore/) is a partnership between local workforce development agencies including the Maryland Department of Labor – Division of Workforce Development, Upper Shore Workforce Development Board, Department of Rehabilitation Services, and Disability Navigator.
The Talbot County American Job Center is located at 301 Bay Street, Suite 301 | Easton, MD 21601 (behind Acme). The phone number is 410-822-3030.
About Talbot County Department of Economic Development and Tourism
The mission of the department is to enhance and promote a business-friendly environment for current and prospective enterprises and to advocate for policies that support and strengthen the economic vitality of Talbot County. The vision the department sees for Talbot County is simple: Strong Communities. Empowered Businesses. Innovative Solutions.
If you own or operate a business in Talbot County, or want to start one, contact the Department of Economic Development and Tourism at 410-770-8000.