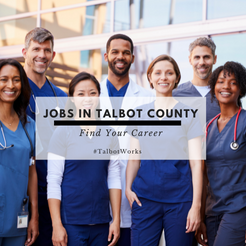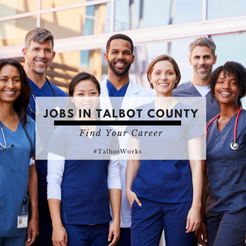 Employers are hiring in Talbot County. Check out these jobs or pass them along to a friend. The future is bright in Talbot County. 
Acts/Bayleigh Chase in Easton is hiring:
Certified Medicine Aide
Dishwasher
Lead Dietary Aide
Line Cook
Maintenance Technician
Aphena Pharma Solutions in Easton has many openings to fill, including:
Maintenance Technician
Production Supervisor
Senior Purchasing Agency
Manufacturing Engineer
Machine Operator
Channel Marker has several positions to fill in multiple locations:
Behavioral Health Therapist
Rehab Specialist
Residential Associate, full and part time
Residential Crisis Specialist, full and part time
Chesapeake Bay Maritime Museum in St. Michaels has full- and part-time openings for:
Accountant
Building Maintenance Mechanic
Festival Coordinator
Chesapeake College in Wye has openings for:
Construction and Skilled Trades Instructors
Public Safety Officers
IT Engineer I
Spanish Instructor
Easton Utilities in Easton is looking for a Water and Wastewater Facilities Maintenance Technician, Water Distribution and Wastewater Collections Operator, and an Assistant Operator I.
Eurofins in Easton is looking for:
Technician, Plants and Insects
Staff Scientist II, Analytical Chemistry
Animal Care Technician
Custodian/Glassware Technician
Quality Assurance Associate AgroScience
Technical Scientific Writer, Analytical Chemistry
Business Development Manager, Crop Protection
Goodwill in Easton has openings for:
ADC Attendant 3
Part Time Sales Associate
Production Sorter
Harris Teeter in Easton is looking to fill a number of positions, including:
Part time Produce Clerk
Cashier
Baker
Pharmacy Technician
Journeyman Meat Cutter
Cake Decorator
HeartFields Assisted Living in Easton has openings for:
Full Time LPN
Part Time Resident Assistants
Director of Resident Care
Medication Technician
Cook
Part Time Receptionist
Part Time Community Driver
Inn At Perry Cabin in St. Michaels has openings for:
Guest Service Agent
Restaurant Manager
Executive Sous Chef
Rooms Coordinator
Maintenance Engineer
Paris Foods Corporation in Trappe is hiring:
Senior Manager, Quality Assurance, Food Safety
Production Associate
Quality Assurance Supervisor
Sanitation Associate
Senior Maintenance Technician
Warehouse Associate
Inbound Quality Coordinator
Qlarant in Easton is searching for:
Administrative Assistant
Fraud, Waste and Abuse Specialist
Quality Assurance Engineer
External Quality Review Quality Improvement Coordinator
Sail Salina II in St. Michaels is looking for a boat captain! Interested people should send a resume to sailselina@aol.com
Talbot County Government has openings for:
Correctional Officer
Planner II
Senior Engineer
Treatment Plant Operator
Paramedic
Airport Operations and Maintenance Specialist
Repurposing Center Operator II
Talbot County Public Schools is looking for:
Instructional Assistant
Substitute Coordinator
Behavior Counselor
Maintenance Specialist
Elementary Teacher
Secondary Math Teacher
Music Teacher
Talbot Hospice in Easton has the following openings:
Cook
RN Hospice On-Call After Hours
Social Worker
CNA Full and Part Time
RN Per Diem
Talbot Humane in Easton is looking for two Part Time Animal Care Attendants, and an Animal Control Officer.
Tidewater Inn in Easton has openings for:
Line Cook
Tidewater House Steward
Front Desk Agent
Banquet Captain Housekeeping Attendant
Town of Easton is looking for a Chief of Police, Buildings and Facilities Service Technician, and a Senior Human Resource Analyst.
UM Shore Regional Health in Easton is looking for a variety of professionals, including:
Licensed Practical Nurse
Medical Technologist
Food Service Production
Physician – Cardiologist
SH Nursing Tech
Front Office Supervisor
Medical Lab Assistant
YMCA in Talbot County is hiring:
Youth and Family Programming Director (Peachblossom)
Personal Trainer (Peachblossom)
Custodian (Peachblossom and St. Michaels)
Membership Services Representative (Peachblossom and St. Michaels)
Group Exercise Instructor (Peachblossom and St. Michaels)
Lifeguard (St. Michaels)
Rockwall Climbing Staff (Peachblossom)
For more listings, check out:
College Central Network
Chesapeake College uses College Central Network as its official job search and job posting service. The exclusive site can be accessed 24/7 at www.collegecentral.com/chesapeake.
Job Seekers, quickly apply to jobs and Internship opportunities posted exclusively for you, and search other opportunities via Jobs Central® and Intern Central®, national job boards.
Employers post unlimited jobs for free to talented student, alumni and community members
Android & iPhone smartphone app is available for download at com/app
American Jobs Centers Network
The American Jobs Centers Network ((https://www.dllr.state.md.us/county/uppershore/) is a partnership between local workforce development agencies including the Maryland Department of Labor – Division of Workforce Development, Upper Shore Workforce Development Board, Department of Rehabilitation Services, and Disability Navigator.
The Talbot County American Job Center is located at 301 Bay Street, Suite 301 | Easton, MD 21601 (behind Acme). The phone number is 410-822-3030.
About Talbot County Department of Economic Development and Tourism
The mission of the department is to enhance and promote a business-friendly environment for current and prospective enterprises and to advocate for policies that support and strengthen the economic vitality of Talbot County. The vision the department sees for Talbot County is simple: Strong Communities. Empowered Businesses. Innovative Solutions.
If you own or operate a business in Talbot County, or want to start one, contact the Department of Economic Development and Tourism at 410-770-8000.