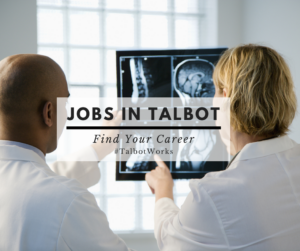 The job market is picking up in Talbot County. Click on the links below for more information.
Aphena Pharma in Easton has many openings to fill, including:
Quality Assurance Manager
Direct of Project Management/Customer Service
Production Technician
Maintenance Mechanic
Warehouse Clerk
Customer Service Coordinator 
Bluepoint Hospitality in Easton is hiring full- or part-time employees at Flying Cloud Booksellers; a pastry cook; and an assistant to the head baker.
Eurofins Agroscience Services in Easton is seeking a Staff Scientist I, Program Coordinator, Aquatics Technician, and a Staff Scientist II in analytical chemistry.
Five Star Senior Living in Easton is looking for a Sales Counselor II and resident assistants for its dementia unit.
Inn At Perry Cabin in St. Michaels is advertising for Recreation Attendant, Employment/Training Manager, Guest Service Agent, Message Therapist, and an experienced Maintenance Engineer.
Shore United Bank in Easton is looking for an experienced BSA Officer and a Credit Analyst III.
The Spaghetti Factory, a new restaurant opening in Easton, is hiring for all positions.
UM Shore Regional Health in Easton has a number of open positions, including:
Nurse Practitioner Cardiology
Surgical Technologist
Administrative Coordinator
Distribution Clerk
Food Service Associate
HR Business Partner
Staff Nurse
For more listings, check out:
The American Jobs Centers Network ((https://www.dllr.state.md.us/county/uppershore/) is a partnership between local workforce development agencies including the Maryland Department of Labor – Division of Workforce Development, Upper Shore Workforce Development Board, Department of Rehabilitation Services, and Disability Navigator.
The Talbot County American Job Center is located at 301 Bay Street, Suite 301 | Easton, MD 21601 (behind Acme). The phone number is 410-822-3030.
About Talbot County Department of Economic Development and Tourism
The mission of the department is to enhance and promote a business-friendly environment for current and prospective enterprises and to advocate for policies that support and strengthen the economic vitality of Talbot County. The vision the department sees for Talbot County is simple: Strong Communities. Empowered Businesses. Innovative Solutions.
If you own or operate a business here in Talbot County, or want to start one, you are encouraged to contact the Department of Economic Development and Tourism at 410-770-8058 or visit their office at 215 Bay Street, Suite 5, Easton, MD.