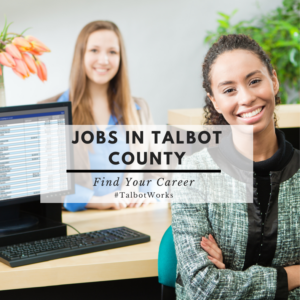 Check out the new job opportunities in Talbot County this month! Click on the links below for more information.
Aphena Pharma in Easton has many openings to fill, including:
Customer Service Coordinator
Staff Accountant
Quality Technician
Material Handler
Big Lots in Easton is hiring a Store Associate, Retail Freight Processing Lead, and Furniture Sales Manager.
Chesapeake Bay Maritime Museum in St. Michaels has full- and part-time openings for:
Custodian
Building Maintenance Mechanic
Director of Facilites
Museum Educator
Advancement Administrative Assistant
Chesapeake College in Wye Mills has openings for:
Administrative Assistant, Allied Health
Assistant Baseball Coach
Athletic Facilities Specialist
Public Safety Officers
Executive Director Todd Performing Arts Center
Inn At Perry Cabin in St. Michaels has openings for:
Cook
Bartender
Housekeeper
Retail Shop Attendant
Baker
Assistant Director Food and Beverage
Executive Assistant
Executive Sous-Pastry Chef
LifeStance Health in Easton is hiring:
Psychiatric Nurse Practitioner
Licensed Clinical Professional Counselor
Licensed Clinical Marriage and Family Therapist
Clinical Psychologist
Child Adolescent Psychiatrist
Adult Psychiatrist
Lowes in Easton is looking for:
Cashier
Receiver Stocker Overnight
Merchandising Service Associate
Seasonal Cashier
NextGen Flight Solutions in Easton is looking for an Aircraft Corporate Jet Mechanic and a Line Service/Aircraft Detailer. Send a resume to acortes@flyngfs.com.
Shore United Bank has openings in Easton for:
Loan Operations Specialist
Branch Operations Specialist
Branch Banking Representative
Personal Banker
Credit Analyst
Talbot County Government has openings for:
Assistant Finance Director
Correctional Officer
Collection System Operator I
Communications Specialist I
Paramedic
Planner II
Senior Engineer
Treatment Plant Operator I
UM Shore Regional Health in Easton is looking for a variety of professionals, including:
Security Officer
Food Service Associate
Case Manager
Community Health Advocate
Nurse Supervisor
Nursing Tech – Behavioral Health
Sonographer
Care Coordinator
OR Attendant
For more listings, check out:
College Central Network
Chesapeake College uses College Central Network as its official job search and job posting service. The exclusive site can be accessed 24/7 at www.collegecentral.com/chesapeake.
Job Seekers, quickly apply to jobs and Internship opportunities posted exclusively for you, and search other opportunities via Jobs Central® and Intern Central®, national job boards.
Employers post unlimited jobs for free to talented student, alumni and community members
Android & iPhone smartphone app is available for download at com/app
American Jobs Centers Network
The American Jobs Centers Network ((https://www.dllr.state.md.us/county/uppershore/) is a partnership between local workforce development agencies including the Maryland Department of Labor – Division of Workforce Development, Upper Shore Workforce Development Board, Department of Rehabilitation Services, and Disability Navigator.
The Talbot County American Job Center is located at 301 Bay Street, Suite 301 | Easton, MD 21601 (behind Acme). The phone number is 410-822-3030.
About Talbot County Department of Economic Development and Tourism
The mission of the department is to enhance and promote a business-friendly environment for current and prospective enterprises and to advocate for policies that support and strengthen the economic vitality of Talbot County. The vision the department sees for Talbot County is simple: Strong Communities. Empowered Businesses. Innovative Solutions.
If you own or operate a business in Talbot County, or want to start one, contact the Department of Economic Development and Tourism at 410-770-8000.