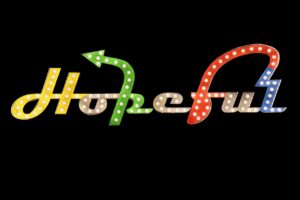 People are looking for hope during the COVID-19 pandemic, and the Dock Street Foundation, Mid-Shore Community Foundation, Avalon Foundation, and Discover Easton are looking to bring that to Talbot County with Hopeful 2020.
According to organizers, Hopeful 2020 is a means for citizens to express their feelings of hope for the future by contributing funds to the Mid-Shore Community Foundation's Covid-19 Response Fund, which supports nonprofit organizations that provide food, shelter and health services to Talbot County's underserved residents.
The event kicked off July 10 with the unveiling of two of the art sculptures located at the corner of Washington St. and Dover Rd. Two additional art sculptures will be erected at other locations in Easton this week. Musician, songwriter, and playwright, Robbie Schaefer, performed during the event.
The Hopeful 2020 art sculptures, created by Maine artist Charlie Hewitt, incorporate marquee-style lighting into a retro-inspired sign illuminated in colorful hues. In the words of the artist, "I would like people to be grateful for their country, their families, and their community. To appreciate the quality of life we share and to remember that being Hopeful is a challenge that requires action and commitment."
The Talbot Arts Council is also participating in the Hopeful 2020 campaign by encouraging arts groups to consider new projects in music, fine arts, craft, poetry and writing related to the theme of "hope."
Those interested in taking an action step can do so by donating to Mid-Shore Community Foundation's Covid-19 Response Fund at: www.dockstreetfoundation.org.