How will a community respond when the unexpected happens? That's a question emergency managers think about every day, and it's a question Talbot County Manager Clay Stamp can now answer with great clarity and confidence.
In January 2020, the CDC confirmed the first case of a novel coronavirus, brought to the United States by an international traveler returning home from China. By March, the virus was spreading out of control, leading the World Health Organization to declare COVID-19 a pandemic.
Just like that, the world had changed.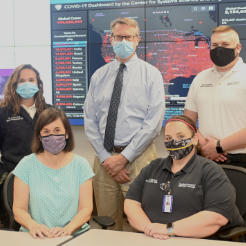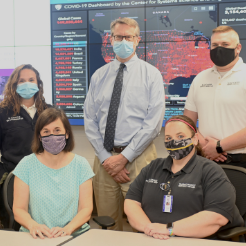 On March 15, Talbot County activated its Emergency Operations Center team, a group of community partners and stakeholders tasked with responding to community threats. When the EOC is activated, those partners report to the Operations Center on Port Street in Easton, a centralized location where professionals from all disciplines come together to collectively respond to a crisis. When the EOC was activated, Stamp was serving as the director of Talbot County's Department of Emergency Services.
"As an emergency manager, one of the primary tasks is to bring the community together during sunny days to assess risk and identify all of those things that could adversely affect your community," Stamp explains. "You build relationships, you evaluate the risks, and you plan for what you will do when something happens."
A Community Safety Net
While Stamp admits that no one at any level had really planned for a pandemic of this magnitude, he believes that Talbot County's system has worked. "All we did is activate the network that we had put together some time ago to mobilize, come together, and address needs," Stamp explains.
In the case of the pandemic, the Emergency Operations Center mobilized to offer support to the Talbot County Health Department, the local agency charged with addressing public health issues.
"Our responsibility in an emergency situation is to wrap ourselves around an organizational solution when we have a crisis in our community, in this case an emerging infectious disease," Stamp explains. "We are very fortunate to have had two accomplished physicians leading the Talbot County Health Department, the lead agency in this crisis."
Dr. Fredia Wadley, a pediatrician and former Commissioner of Heath for the state of Tennessee, was the Talbot County Health Officer until her retirement in December 2020. In January, Dr. Maria Maguire took the helm, continuing the work of the department and leading efforts to get vaccines deployed into the community.
"We are deeply indebted as a community to Dr. Wadley's exceptional leadership during the first half of the COVID-19 pandemic," Dr. Maguire stresses. "I am certain that, because of her thoughtful and thorough management of this public health emergency during her tenure, Talbot County benefitted from having lower infection rates and hospitalizations than most of the state."
Flattening the Curve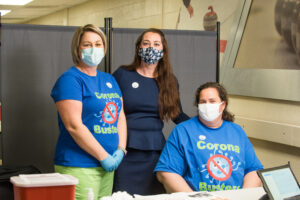 As the pandemic began, health officials monitored the situation and shared information with stakeholders and the community at large.
The Health Department established a contact tracing unit and called on Talbot County residents to follow established health protocols, including masks, frequent handwashing, and social distancing. As the virus spread, the department established testing sites to make COVID-19 tests more accessible to the public and ultimately, have led the way in deploying the vaccine.
"A common saying is that all public health is local and responding to public health emergencies is a central element of our mission as a local health department," Dr. Maguire explains. "The COVID-19 pandemic stretched health departments around the country to their maximum, but I am in awe of the tireless dedication and work ethic displayed by the staff and volunteers of our health department. For the past 13-plus months, our county public health workers have really gone above and beyond the call of duty."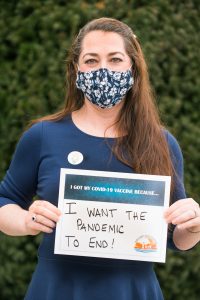 400 Days and Counting
The Emergency Operations Center has been activated for more than 400 days, much longer than expected, and the community has come together in the most extraordinary way. Talbot County's response to the COVID-19 pandemic was presented a Community Impact Award at the annual Business Appreciation Summit, held virtually on Friday, April 30.
"The response to COVID-19 has truly been a community-wide effort," Dr. Maguire says. "I am impressed with how our community partners have worked together, whether to ensure wide access to testing, operating vaccination clinics throughout the county, or keeping the public informed. The entire county should really be very proud of the efforts of so many who have responded so passionately to this public health crisis."
Stamp couldn't agree more. "As a long-serving emergency manager who's been to Hurricane Andrew, who's been to Hurricane Katrina, who was at the World Trade Center disaster, I have never seen a community come together like Talbot County to address this pandemic," he says.
"It's rewarding to me as an emergency manager. It's rewarding to me as a member of this community to be a part of our response to this crisis. It's incredibly moving, and I hope the people of Talbot County feel that too."