It's like something out of a modern cinematic thriller. A vast network of data scientists sifts through miles and miles of data, looking for patterns and abnormalities that signal someone is up to no good.
When they find outliers, the data analytics team passes the information to experienced investigative and clinical personnel who are familiar with the schemes and understand there are those who will cheat the system. Qlarant teams often work closely with agencies including the Office of Inspector General and the Federal Bureau of Investigation.  
The day-to-day work is not always that dramatic, of course, and these scenarios can take months, not minutes, to play out. But some of the country's best fraud investigators work for Qlarant. If you're breaking the law by overbilling Medicare or Medicaid, they are going to find you – sooner or later.
Q is for Quality
Qlarant (pronounced Claire-ant) is a relatively new name for a company with deep roots in Talbot County. The company was founded in 1973 as The Delmarva Foundation for Medical Care. As a not-for-profit organization, it began as a Professional Standards Review Organization (PRSO). The company grew to include a foundation and a national program for integrity and quality review in Medicare and Medicaid.
The three business units were united under one holding company named Quality Health Strategies Inc. in 2007. The Qlarant brand was developed in 2018 and now folds all of the company's subsidiaries under one umbrella.
Yet the company's three focus areas remain the same: the investigation of fraud, waste, and abuse in healthcare; quality improvement to improve lives; and providing charitable grants that improve the health status of underserved communities in Maryland and Washington, D.C.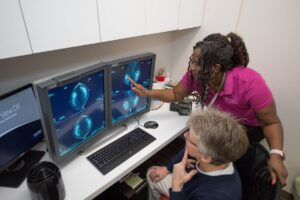 Each subsidiary has its strengths and a distinct focus from a business perspective, says Qlarant CEO, Dr. Ron Forsythe, but they all have one thing in common. "The dedication of our team is equal across the board," he stresses. "We all share the same drive and passion for getting the work done."
Today, Qlarant employs a vast network of more than 500 doctors, nurses, pharmacists, social workers, investigators, data scientists, analysts, and IT professionals across the country. Some 120 are located in the Easton area, while the rest are located in satellite locations or home offices from California to Florida and Texas to Montana.
While it can be difficult to explain the depth and breadth of Qlarant's work, Forsythe breaks it down in a way that almost anyone can understand. "As an organization, we have three primary areas," he explains. "We fight the bad guys, help the good guys, and give money to those in need."
Fighting the Bad Guys
Those who work for Qlarant Integrity Solutions spend their days identifying and investigating fraud in healthcare. The company works in every state in the U.S. and many of its territories, and it holds numerous contracts with the Centers for Medicare and Medicaid Services.
The company arms it's investigators with the best tech tools available and backs them up with a team of data scientists and IT professionals. In short, they marry artificial intelligence with human intelligence to improve performance.
"We use artificial intelligence as a supplement to our subject matter experts," Forsythe says. "They interact with the data, and they can aim the artificial intelligence to the issues we're trying to identify so that we have a 90% plus hit rate. If we show up with an investigator, you can rest assured that they're going to find what we say is there."
What inspires someone to try to defraud the federal government? Forsythe can answer that in two simple words. "Greed and arrogance," he says. "There are protections in place to prevent people from abusing the system, and most of the people know what they are doing is wrong.
"We try to identify the difference between those who are intentionally committing fraud and those who have accidentally fallen into a bad pattern," Forsythe continues. "But if you are out there churning out millions and millions in fraudulent claims, and you're out there doing things you know you're not supposed to be doing, we are going to find you."
Helping the Good Guys
Another of the subsidiaries, Qlarant Quality Solutions, focuses on improving quality and outcomes in healthcare.  The company was one of the first quality improvement organizations for the Centers for Medicare and Medicaid Services and now works with numerous federal, state, and commercial entities.
Qlarant conducts complex assessments of both programs and healthcare providers, and then provides the technical assistance and training to improve outcomes. Their expertise ranges from managed care to disability solutions, and addresses issues that include health disparities, community integration, person-centered delivery, and patient safety.
The common thread that connects "fighting the bad guys" with "helping the good guys" is the use of technology and advanced data analytics to inform those doing the work. Still, this segment of the business requires a different approach. "For the people who need improvement and need support, we have very caring people who know how to reach out with compassion as well as with the data," Forsythe explains.
One example is the company's team that focuses on disability solutions. "The primary focus of this group is to ensure people with intellectual and developmental disabilities have control over their lives, and they're able to live the life they envision for themselves," Forsythe says.
"A lot of time the community and the world will try to set the boundaries for the people our employees support," he continues, "but they have dreams and aspirations of their own. Our team has no qualms about challenging the facilities where they are receiving services and making sure they are allowed to stretch their perception of what is possible so they can achieve their best life."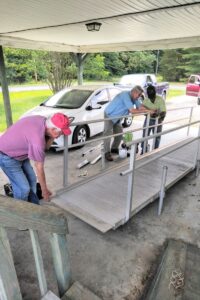 Giving Money to Those In Need
Because Qlarant was founded as a not-for-profit, it has a strong history of reinvesting profits to improve health care and human services for all.  The company's foundation gives away more than $400,000 each year to support charities throughout Maryland and in Washington, D.C.
A part of every Qlarant business endeavor helps fund the foundation to support organizations with some sort of medical, health, or social services aspect.
"We tend to focus on smaller entities that need some funding to light that fire and get them moving," Forsythe says. "In addition to money, the foundation will give them training on general operations and show them how to leverage our funds to get matching funds."
In the company's early days, leaders set aside $1 million to fund the foundation. "It's at the point now that we are using the interest from that money to fund these grants," Forsythe notes. "Anything we put in now is a bonus to grow the foundation even more."
Persistence in a Pandemic
Like most businesses, the worldwide COVID-19 pandemic caused the company to pause, but only temporarily.
Qlarant had already engineered a system that allowed employees to work from home in inclement weather, but it hadn't been tested on such a large scale or for such an extended period of time. Forsythe also worried that business would slow because fewer people were having elective medical procedures while the pandemic raged.
If anything, the company's work became even more important during the pandemic. With teleworking a viable option, Qlarant's physical footprint is shrinking, but they added 30 to 40 new employees in 2021.
The company's team of crackerjack IT professionals proved their worth, supporting Qlarant's home-based workforce to operate at full speed. If the bad guys weren't stopping, they wouldn't either. "Where there's a catastrophe, there is always room for fraud," Forsythe says. "People will take advantage of the lax or loose systems."
"We were somewhat fortunate that we already had a large footprint of people working from home," Forsythe says. "After a few snowstorms in 2013 and 2014, we had beefed up our infrastructure. We realized that when we have a snowstorm, we still need to get our work done. The vast majority of our people are able to work from home or remotely. We tested the system and it seemed to be holding up, and we haven't looked back since. "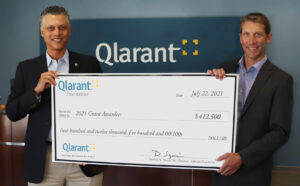 Focus on the Future
Forsythe is continually working to ensure Qlarant stays ahead of the curve with technology and is positioned for continued growth. The competition for federal contracts is fierce, with big names like IBM, SGS, and LexisNexis fighting for a piece of the pie.
"At the core of it our main contracts are stable, they're solid," Forsythe says. "We've had them for 40 plus years. For example, we have the longest contract history detecting and investigating Medicare Part C and D fraud, waste, and abuse. That gives us great credibility, great strength. It also gives us a great foundation to build on."

"I'm trying to push around the edges and find new opportunities or to create another leg of the stool so we have more stability for the organization," he continues. "We have to push the perimeters."
The company plans to commercialize the quality improvement and value improvement tool sets they're currently developing. Company leaders also believe the technology they use in healthcare can be applied to other industries. As the company expands and diversifies, look for acquisitions and more investment in start-ups.
Forsythe smiles when asked about his background and what brought him to Qlarant. A chemical engineer by training, he did his graduate work at the University of Maryland College Park with research at Northwestern and the Stanford Research Institute. For his degree dissertation, he was required to take complex reaction systems and make them simple.
"When you look at all of the data analytics and the tool sets we are about to start rolling out and commercializing, they're all about taking complex data sets and putting them in this simple, intuitive, easy-to-use format for the end user," Forsythe explains. "We give our clients a road map to be able to improve those outcomes. I'm actually using my Ph.D. every day."
For more information, visit qlarant.com.
---
UPDATE: Qlarant Celebrates 50 Years of Service in 2023, January 6, 2023
Never Miss Business News: Subscribe to Talbot County Economic Development and Tourism's Talbot Works newsletter here.