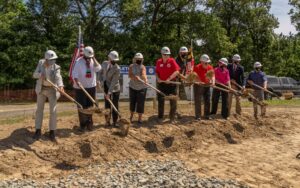 The Mistletoe Hall Commerce-Business Park moved one step closer to opening for business on Monday, June 15, when the Town of Easton held an official groundbreaking ceremony for the site.
The ceremony signals that work is about to begin in earnest on the property's infrastructure. The town's Public Works Department has been busy since the project's October 2018 launch preparing for this moment. They've laid out roads, planned the water and sewer infrastructure, and divided the property into parcels.
Talbot County's Public Works and Roads Departments are improving the county road leading to the property in anticipation of additional truck traffic to the site. The portion of Goldsborough Neck Road from the entrance to the commerce-business park to Glebe Road is in the process of being widened.
The 86.25-acre parcel was set aside many years ago for business and industrial use, and long has been part of Easton's plans for growth. With nine parcels available for development, the property offers a prime location for business expansion.
Funding for the development of Mistletoe Hall came from a number of local, state, and federal sources. Partners include the Town of Easton, United States Department of Commerce – Economic Development Administration, Easton Utilities, Talbot County, and the Rural Maryland Council's Rural Maryland Prosperity Investment Fund.
"Talbot County applauds the partnership that has brought the development of Mistletoe Hall to fruition," says Talbot County Council President Corey Pack. "Working together with our partners, the groundbreaking of this 86-acre industrial park will incentivize local businesses to expand and new businesses to grow and relocate to Talbot County."
Work on this project is scheduled to be completed in late 2021. Visit www.mistletoehall.com to learn more about this project.