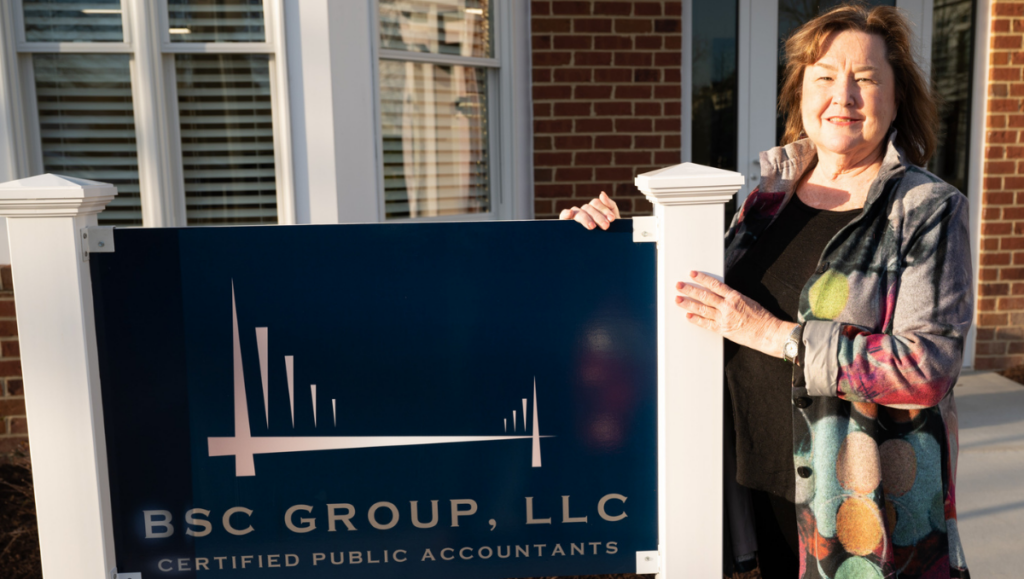 If you think accountants are boring bean counters, Debbie Walsworth has news for you.
"We have to be smart. We have to be cutting-edge. We have to deliver solutions and provide the highest quality service," Walsworth says. "Spending a stint in public accounting will be the best education you ever get, and it's one of the best door openers to any business you want to go into."
As the managing partner of BSC Group, LLC, Walsworth has years of experience to back up her statements. She joined Easton's Beatty Satchell & Co. in 1987 when it was the largest regional accounting firm on the mid-shore, bringing with her an expertise in pensions. When the company was acquired by CBIZ, Walsworth stayed on, ultimately rising to the level of senior managing director.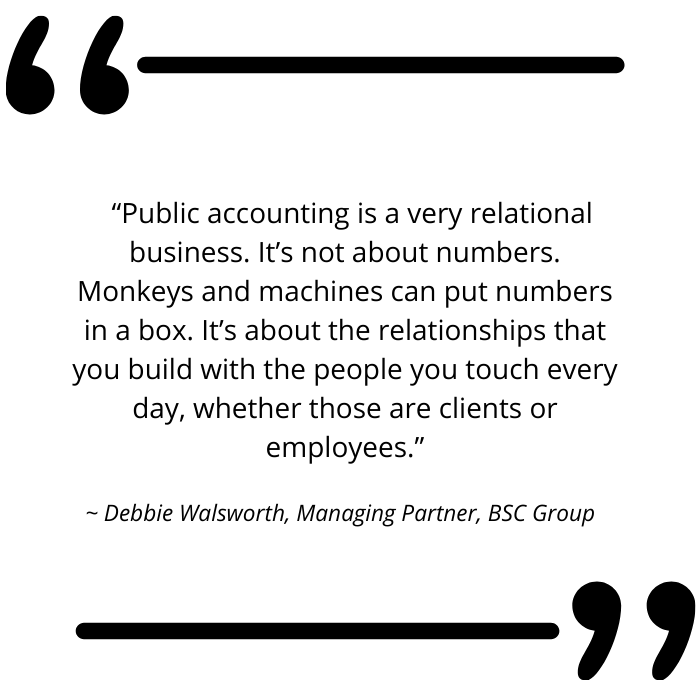 "In 1997, the accounting world was changing, and people were more interested in one-stop shops," Walsworth explains. "Accounting firms were being acquired and becoming part of larger organizations. At its peak, CBIZ consisted of about 300 separate business units and close to 10,000 employees."
Being part of a national accounting practice benefitted Walsworth both personally and professionally. She was able to work a flexible schedule while raising her family, and she received topnotch training opportunities to expand her skills.
"CBIZ focused on managers because they were looking to build a firm that went into the future, beyond the founding generation of the firms they acquired," she explains. "The level of training was incredible — sales training, international tax law, business training, HR, all kinds of technology solutions."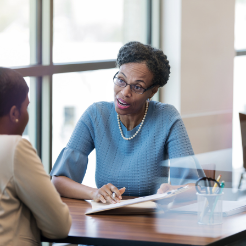 Crediting the Past
In recent years, as CBIZ shifted its focus to larger metropolitan areas, a return to local ownership became an increasing possibility. "They have been divesting smaller units of all types for about 10 years," Walsworth notes. "We had tried to strike a deal three or four times."
When Walsworth finally took the reins in August 2020, she named the new business BSC Group, a nod to the founders of the original company – Lloyd Beatty and Lou Satchell – and all of the fine accountants who worked to make Beatty Satchell & Co. a success.
"We felt as a firm, and I felt as an owner, that it was time to return to being a small regional firm," she notes. "We have 23 years of resources and relationships with providers around the country. We can easily tap into any specialized expertise that we need. But the amount of resources we were spending to be under the CBIZ umbrella and they were spending to manage us just didn't make sense any longer simply because of scale."
Planning the Future
Returning the company to local ownership was the right thing to do, Walsworth says, for both employees and clients, and it benefits those who are up and coming in the firm.
"I had some younger people in the firm, and they indicated that they really did not want to be employees for their whole career," Walsworth says. "They wanted to own something, to build something, which is the difference in the old partnership model of CPA firms and being a unit under a much larger publicly traded company."
As the managing partner, Walsworth has a "large book of business" where she works with businesses, high net-worth individuals, and families, but she also manages the firm itself. She takes seriously to cultivate the next generation of leaders for the business.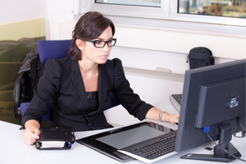 "My focus for the last five years, even when I was the senior managing director under CBIZ, was preparing this company for the next 15 years," Walsworth explains. "Who are the next players? How do you build out a company that the area needs?."
Walsworth says the firm is always looking for talented people.
"Talent in my mind is intelligence, work ethic, and communications skills," she says. "Obviously we look for people with accounting degrees, but this is very much on the job training. We are going to teach you everything you need to know if you are smart, willing to learn, and motivated. We tell people who come in as interns, 'You could be our next partner.'"
Finding a Balance
Though tax season is demanding for accountants, Walsworth says it is possible for accountants to achieve a work-life balance, and she is committed to building a culture that achieves this ideal. The firm achieves this with a variety of benefits, from flexible work schedules to liberal vacation plans.
"We're working really hard to make this profession attractive for the long-term," she says. "When I started, public accounting had a 97% turnover rate in the first three years. If you are interested in building a team, you have to find a way to solve that problem, particularly on the Shore.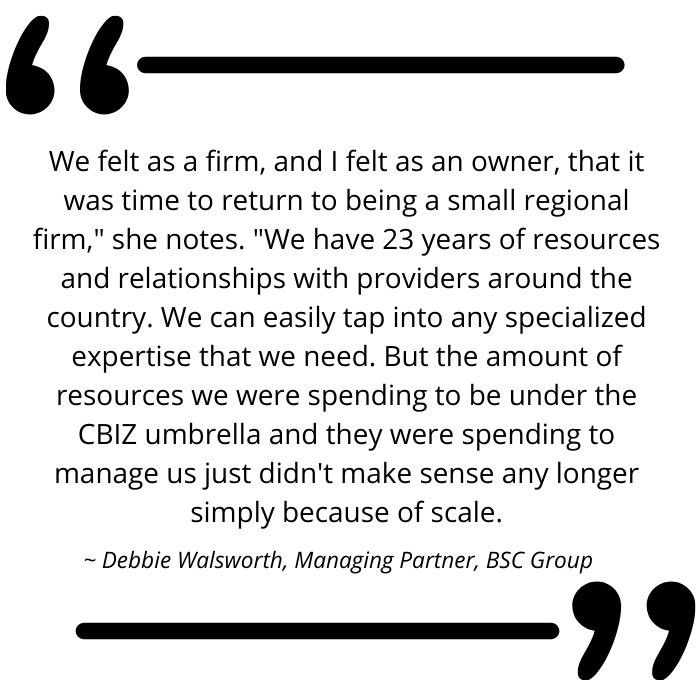 "Most accountants love the work of the busy season," she continues. "They hate the hours after a certain point, but they like what they are working on. My pitch is, 'If you can give me three months of your life, I can make this a really good place to work 9 months of the year.'"
The changing workforce is beginning to affect the field of accounting, much as it does in other industries. "You've got a different workforce now," Walsworth observes. "If you start telling people you've got to put your time in, it doesn't sell. They're going to move to the next best thing unless you give them a reason to stay."
A Woman's World
Accounting is still a man's world in many ways, Walsworth acknowledges, but she also credits the men she's worked with for helping her get where she is today.
"I have been extremely fortunate that 35 years ago, the founding partners and senior partners I worked with were mentors, friends," she says. "I never felt as a female that I had to fight a glass ceiling because of the character of the men I worked for. I am where I am today because of the men who helped me launch my career."
Walsworth did not finish her accounting degree until she was 51 years old. Now, she is a CPA, has a master's degree in taxation, and owns her own firm. "Building a career may be more difficult when you take a non-traditional path," she says, "but don't tell me you can't do it because I know you can."
What Walsworth loves most about her job is the opportunity to really impact people's lives. "You are helping them become successful and adding to their quality of life," she explains. "Public accounting is a very relational business. It's not about numbers. Monkeys and machines can put numbers in a box. It's about the relationships that you build with the people you touch every day, whether those are clients or employees."