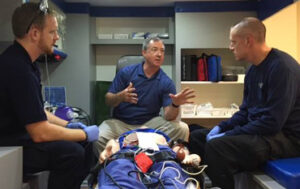 Faculty and staff at Chesapeake College are adapting to distance learning for many classes and will soon be back in session for fall classes.
"Most of our classes will be online this fall," says Dr. Cliff Coppersmith, president of Chesapeake College. "We hope to bring students back onto campus early next year."
The college is still open for students in those areas of study that do not lend themselves to online instruction, though safety measures have been implemented. Class sizes are limited and spaces have been redesigned to implement physical distancing requirements. The college also will have a single point of entry and temperatures will be taken for anyone visiting the campus.
"We will bring back into classrooms programs like healthcare, welding, marine trades, Commercial Drivers License (CDL) training, electrical, and other programs that require hands-on training," Dr. Coppersmith explains. "It's impossible to teach those classes online."
The college plays an important role in training the Eastern Shore's workforce. A variety of classes, from traditional subjects and trades to leadership and continuing education help students successfully transition into the workforce.
The college's state-of-the-art Health Professionals and Athletics Center is a magnet for those planning careers in healthcare careers. Additionally, helping current healthcare professionals maintain their certification through training has been a priority for the College.
Truck driving is among the most popular certificate programs as many local companies hire drivers and those interested in long-haul trucking can earn a good salary. A student can get a commercial driver's license in eight weeks or a school bus license in four weeks, giving them a chance to get to work quickly.
Chesapeake College's Continuing Education and Workforce Development Training remains a rich resource for employers and individuals looking to develop or upgrade skills, pursue special interests, or obtain professional certifications. More than 17,000 students register for non-credit classes each year.
Customized industry training, or Contract Training, allows the college to work with employers to design, develop, and deliver training to employees. The Workplace Excellence Series is one example of a program that helps builds both an employee's career and a company's success. The 10-module program covers effective communications, time management, culture, and navigating success in a changing workplace.
Retraining workers displaced by the COVID-19 pandemic is going to be important in coming months. Dr. Coppersmith expects to see many who were working in the hard hit hospitality industry seek training in another field. "Tuition assistance is available through the COVID CARES Act, private scholarships and through our foundation," he notes. "We want to help get people back to work."
Dr. Cliff Coppersmith spoke about Chesapeake College on the July 28 Emergency Operations Center Private-Sector Call hosted by Emergency Services Director Clay Stamp and Cassandra Vanhooser, Director of Economic Development and Tourism. More information about the college is available online at chesapeake.edu.