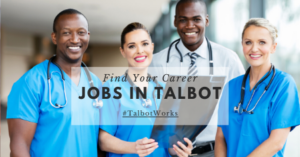 Jobs Report May 2020
Below, you will find job listings currently available in and around Talbot County. Click on the links for more information.
Acme in Easton is hiring! Cake decorator, courtesy clerk, cashier, grocery clerk, and several other positions.
5 Star Senior Living has more than 10 jobs available in Easton, including resident assistants, housekeepers, secretaries, and cooks.
Phillips Wharf Environmental Center is looking for a full-time oyster farm manager and a part-time oyster farm hand. $17 and $12.50 per hour, respectively. Contact kelley@pwec.org.
Royal Farms has numerous openings for customer service leaders, store leaders, assistant store leaders, and customer service associates.
University of Maryland Medical System has more than 140 jobs open on Maryland's Eastern Shore, including:
• Nursing Tech
• Registered Nurse, Labor and Delivery
• Medical Lab Technician
• Unit Secretary
• Medical Assistant
• Food Service Production
• Environmental Service Technician
• Construction and Property Manager
For more listings, check out:
Chesapeake Job Listing from Chesapeake College.
The American Jobs Centers Network is a partnership between local workforce development agencies including the Maryland Department of Labor – Division of Workforce Development, Upper Shore Workforce Development Board, Department of Rehabilitation Services, and Disability Navigator. The phone number is 410-822-3030.
About Talbot County Department of Economic Development and Tourism
The mission of the department is to enhance and promote a business-friendly environment for current and prospective enterprises and to advocate for policies that support and strengthen the economic vitality of Talbot County. The vision the department sees for Talbot County is simple: Strong Communities. Empowered Businesses. Innovative Solutions. If you own or operate a business here in Talbot County, or want to start one, please contact the Department of Economic Development and Tourism at 410-770-8058.