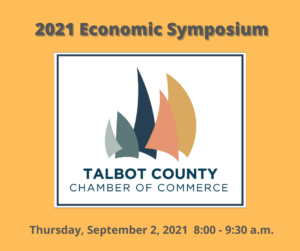 The Talbot County Chamber of Commerce's annual Economic Symposium, which will be held virtually on Sept. 2 at 8 a.m., features a new face in 2021. Luke Tilley, senior vice president and chief economist at Wilmington Trust N.S., an M & T Bank Affiliate, will make his first appearance at this event along with crowd-favorite Anirban Basu, chairman and CEO of the Sage Policy Group. The Talbot County Department of Economic Development and Tourism joins the Chamber, Tri-Gas & Oil, and M&T Bank as sponsors.
As chief economist of Wilmington Trust, N.A. and a member of the firm's Investment Committee, Tilley develops forecasts of the U.S. and international economies and researches emerging issues to support and enhance the firm's investment strategy. He is responsible for communicating the economic outlook and investment strategy to all key stakeholders, including clients and prospective clients.
Prior to joining Wilmington Trust in 2015, Tilley served as an Officer and Economic Advisor with the Federal Reserve Bank of Philadelphia. Earlier in his career, he worked as a senior economist at HIS Global Insight and as an economist for the U.S. Department of Housing and Urban Development.
Tilley holds a master's degree and a Ph. D. in economics from Temple University, as well as a bachelor's degree in economics and history from James Madison University. He is a former adjunct faculty member at Temple University and served on the board of directors of the Pennsylvania Economic Association.
Anirban Basu is chairman and CEO of Sage Policy Group, Inc, the economic and policy consulting firm in Baltimore that he founded in 2004.
Basu earned his undergraduate degree in foreign service at Georgetown University, a master's in public policy from Harvard University's John F. Kennedy School of Government, and a master's in economics from the University of Maryland, College Park. He also earned a law degree at University of Maryland School of Law in 2003.
Register at this link or email Amy Kreiner at akreiner@talbotchamber.org for more information.