Joe Spurry Sr. started working on the water when he was just 16 years old. "They were the best years of my life," he says. "But when I turned the corner, I never looked back."
Turning that corner led him to open Bay Hundred Seafood in McDaniel in 1984, followed by Chesapeake Landing Seafood Restaurant in 1991. Most of his family, including son Joe Jr. and daughter Erin, as well as his wife Nida still work in the family business today. The Spurrys sell seafood up and down the East Coast, and their restaurant is considered "the local's favorite" in Talbot County.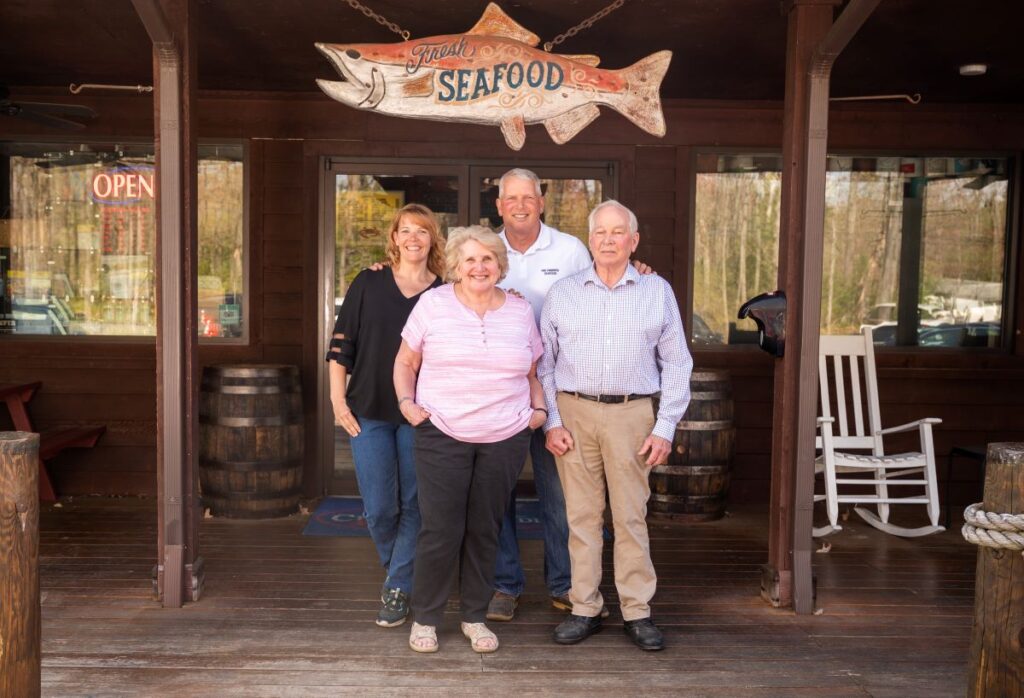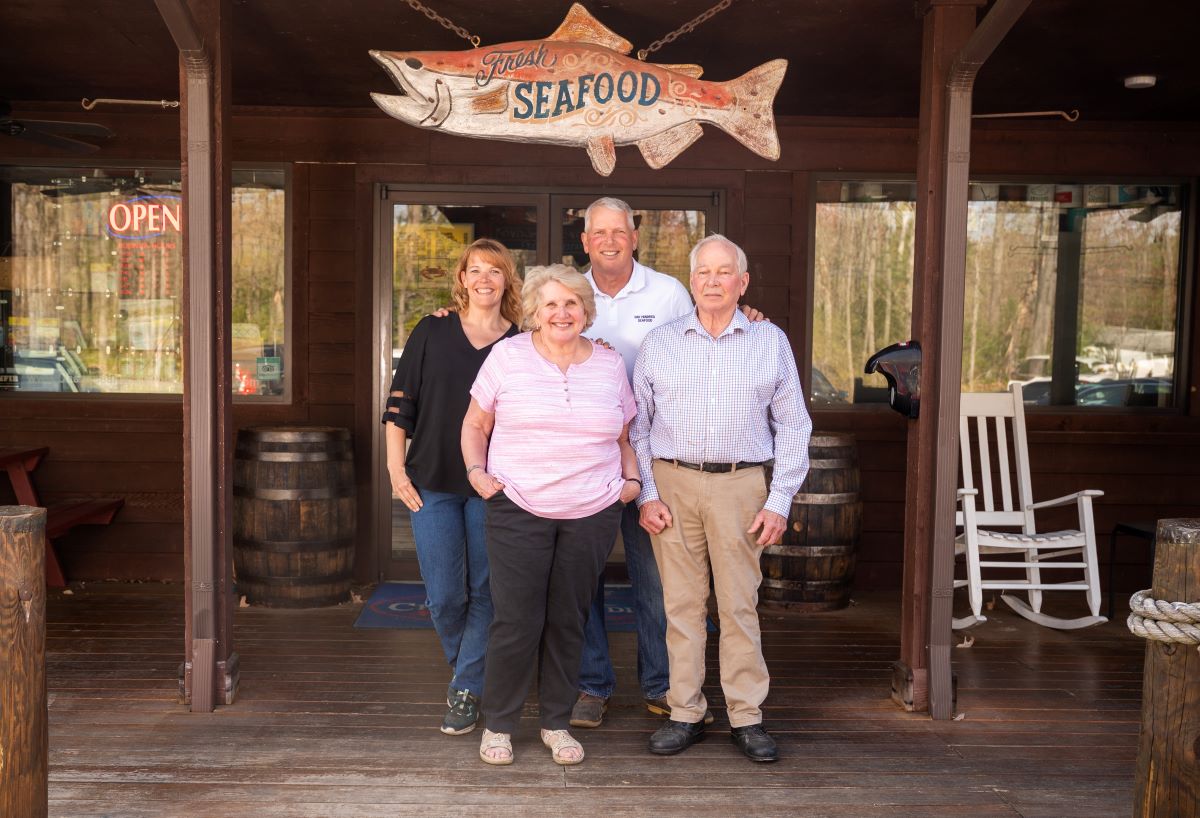 Joe Jr. returned to Talbot County after a stint in the Marine Corps and has worked in the family seafood business for 36 years. Erin, who was just two years old when her parents bought the old Jarboe and Harrison "picking house," grew up in the business. Though Joe Sr. and Nida are still actively involved, Joe Jr. now oversees the wholesale operation and Erin the restaurant.
Chesapeake Landing serves "anything seafood," Erin says, from the local catch to shrimp to scallops. Their Miles River Brand crab meat is used to make house specialties including crab cakes and creamy Crab Imperial, and it can be purchased by the pound in the seafood market. What's more, the business has expanded into catering to bring their savory seafood and other dishes to you.
The Spurrys no longer pay to advertise their restaurant. Instead, they rely on reputation and word-of-mouth by volunteering in the community and contributing to fire department dinners, food drives, Little League baseball teams, and more. "We want to give our money to the community and give back in that way," Erin says. During the pandemic, local food banks used the company's refrigerated trucks to store and deliver food.
For Bay Hundred Seafood, Joe Jr. says the company buys and sells seafood throughout the East Coast and the Gulf of Mexico. "But our primary source is our local waterman right here in the Chesapeake Bay," he stresses. Joe helped start the Talbot Waterman's Association where he has a leadership role and helps shine the spotlight on the region's working watermen. He's also spent years working to replenish the Bay's oyster harvest.
The company's greatest impact, the Spurrys agree, is the local jobs it provides. The restaurant and seafood market employ 53 people, with another 15 working in the picking house and wholesale side of the business.
"For a lot of local kids, this is their first job," Erin says. "As soon as they turn 14 years old, we're ready to put them to work and show them how things are done. We try to keep as many jobs in the area as possible and keep them busy throughout the year."
Joe echoes those sentiments. "We were born and raised in this community, and the people we hire to help us run our business are pretty much from the area," he explains. "We watch kids come here and start out as bus kids in the restaurant or they help out around the plant. Then they go on off to college and become doctors, lawyers, nurses, schoolteachers, or they serve in the military. That's what I like the most — watching people grow and learn."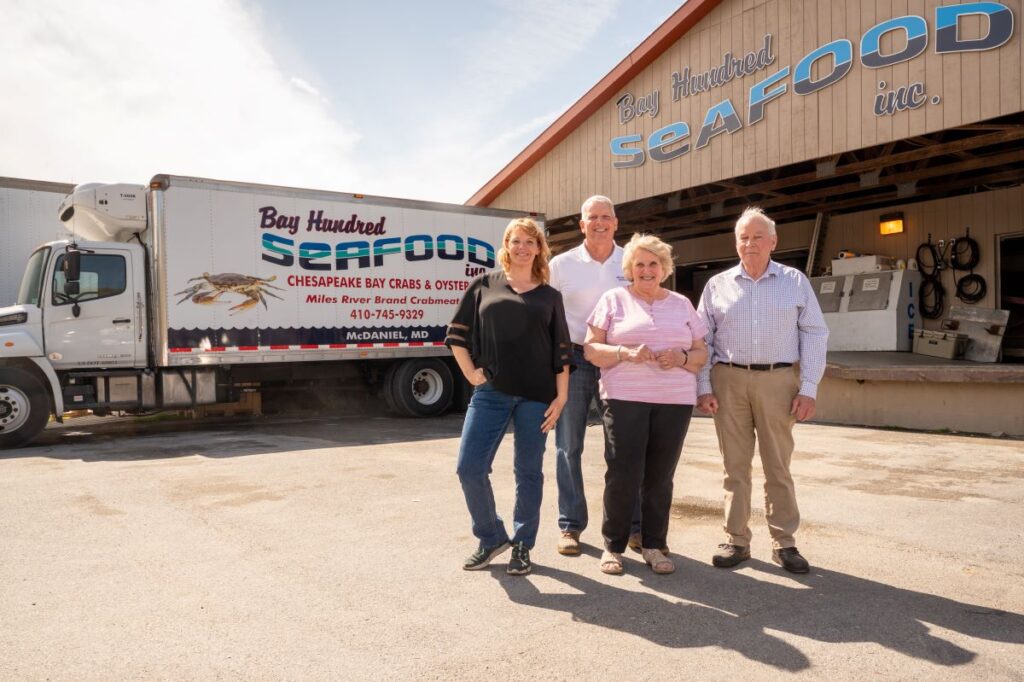 Locals support his business, Joe says, and the business supports locals. "We are serving the locals," he notes. "We see many of the same faces here almost every day. Of course, we're a tourist town so we see a lot of visitors coming in and out as well."
Joe Sr. says he's proud of the business he's built, but the best part is getting to work with his family. "Most of the family takes part," the elder Spurry says. "My sons and I built a building, and we do most of the work around here."
Working in the seafood business takes tenacity, Joe Sr. says. Many of the area's picking houses and seafood restaurants have gone out of business, but Bay Hundred Seafood and Chesapeake Landing are still here "mainly because we've just hung in there."
There's price competition from foreign crab meat and the labor force has shrunk, but Joe Sr. says his family will keep serving and selling Chesapeake Bay seafood. "It's hard to beat Maryland crab meat," he says.
Chesapeake Landing Restaurant and Seafood Market are open seven days a week year-round. For more information, visit ChesapeakeLandingRestaurant.com.
---
Never Miss Talbot County Business News: 
Subscribe to Talbot County Economic Development and Tourism's Talbot Works newsletter here.